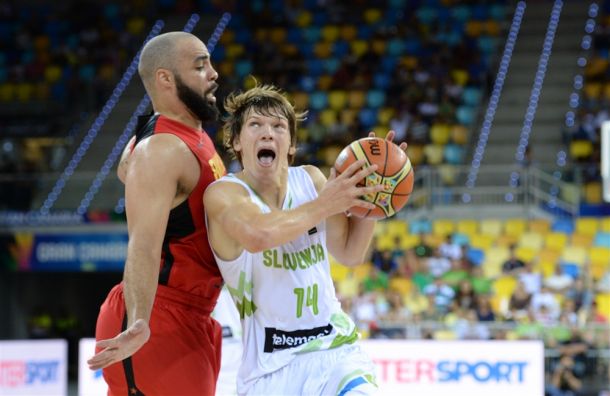 Slovenia continued its dominance over teams in Group D after defeating Angola by 6 points and improving to a 4-0 record.
It was an even battle throughout the entire game, as there was very little defense played. At the end of the first, both teams were knotted at 17.
The match remained close during the second quarter as well. However, Slovenia was red hot from three-point distance in the period, hitting six triples, four of which came from Goran Dragic. Dragic scored all 14 of his points in the second quarter.
The largest margin in the first half by any team was eight, owned by Angola, who was unable to shake off the Slovenians. In fact, Slovenia took a one-point lead into halftime.
More of the back and forth battle continued as both teams traded baskets throughout the third quarter. Goran's brother, Zoran Dragic, came alive scoring all 6 of his points in the third. Angola, however, outscored Slovenia by two in the period to take a one-point advantage to the final period.
In the fourth, Jaka Klobucar and the rest of the Slovenians, not named Dragic, were doing all the damage. Costless throw shooting was the difference in the fourth. Slovenia attempted 16 costless throws in the quarter, as opposed to 4 attempts by Angola, to seal the game.
Domen Lorbek scored a team-high 17 points for Slovenia. Jaka Klobucar put in 12 points, scoring 10 of those in the final quarter.
Angola, meanwhile, had two players who scored over 20 points – Roberto Fortes with 21 and Yanick Moreira with 20. Reggie Moore added 17 points and 6 boards.
Most of the stat numbers were even between the two teams. Slovenia only dominated the three-point shooting, going a plus-21 from that range, which ultimately gave them the W.
Slovenia will look to keep its record perfect tomorrow, September 4th, against Lithuania, who comes in second in Group D with a 3-1 record, at 3:30 pm Eastern Time.
Angola's final game of the tournament will be against Australia on Thursday at 7:30 am Eastern Time.