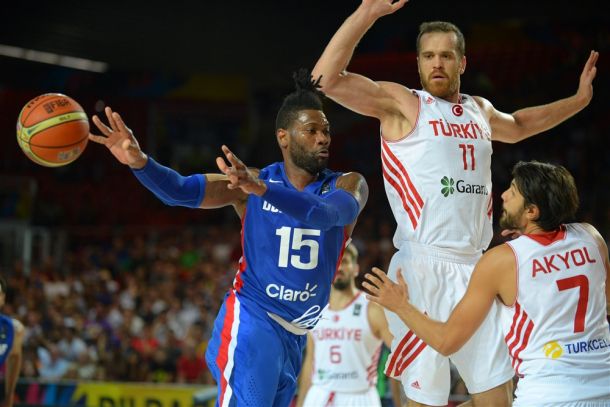 Turkey defeated Dominican Republic 77-64 on the final day of the group stages of the 2014 FIBA World Cup in Spain.
Turkey managed to outscore Dominican Republic in every quarter other than the fourth. Turkey also held the Dominicans to under 20 points for every quarter other than the fourth. Turkey used a mix of decent scoring and impressive defense to defeat Dominican Republic.
Turkey was led by Oguz Savas, who had 15 points and 6 rebounds. Kerem Gonlum also contributed for Turkey by adding 10 points, while current New Orleans Pelican Omer Asik added 9 points in Turkey's victory.
Current Houston Rocket Fransisco Garcia, who missed the team's last game with an ankle sprain, had 18 points for the Dominicans in his return. Victor Liz also contributed for Dominican Republic by adding 12 points in the loss.
Dominican Republic shot 45 percent on two-point field goals and 38 percent from threes. Dominican Republic made 19 of 42 shots from two-point range and 8 of 21 shots from three-point land. Dominican Republic had a decent shooting day but its poor defense kept them from defeating Turkey. Dominican Republic shot an abysmal 50 percent from the costless throw line as well.
Meanwhile, Turkey made 52 percent of its two-point shots and 32 percent of its threes. Turkey was 31 of 67 from the entire field. Their solid shooting and defense helped them pick up the victory over the Dominicans.
Turkey will advance to the round of 16 against Australia on September 7 at 2 pm Eastern Time.
Dominican Repulic will play Slovenia on September 6 during the knockout stages at 2 pm Eastern Time.