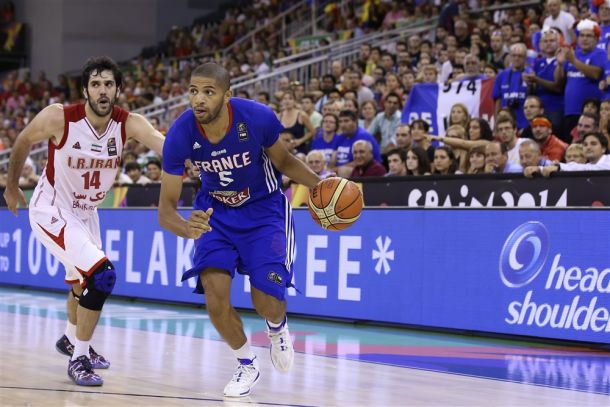 France survived a scare Thursday afternoon, but held on to beat Iran 81-76 and advance to the Round of 16.
The first quarter looked as though Iran was going to run away with the game, at the end of the quarter they held a 23-13 lead over the French. Iran's leading scorer was Samad Nikkhah Bahrami who poured in 23 points on 7-of-15 shooting for his country. Iran did not have a shortage of scorers, boasting another 20-point scorer in Hamed Haddadi, who not only had 22 points on the night, but also grabbed 15 boards.
The second quarter was an entirely different story however, with Iran struggling to find points and hold onto their lead. France turned up the heat and scored 24 points in the second as opposed to 10 points by Iran. Thomas Heurtel led the French with 15 points and four assists.
In the third quarter France outscored Iran 26-16 and seemed to slowly be pulling away. Iran's Mahdi Kamrani had 17 points and with the help of Hamed Afagh who had 10 points of his own, the lead was sliced in the fourth quarter. Iran scored 27 in the fourth to counter France's 18, but the margin was too large to overcome and France won the game 81-76.
France shot 56.6% from the field, while Iran shot 45.8%. Neither of those numbers are terrible, and turnovers were dead even at 13 a piece. However, Iran's three point shooting did not do them any favors as they went 5-of-17 from the field for 29.4%. France was able to use the three point line to their advantage and shoot 45.8% on 11-for-24 from behind the arc.
While Iran has been knocked out of the tournament, France advances to the knockout Round of 16 and will play their next game on Saturday, September 6th against Croatia at 12 PM ET.