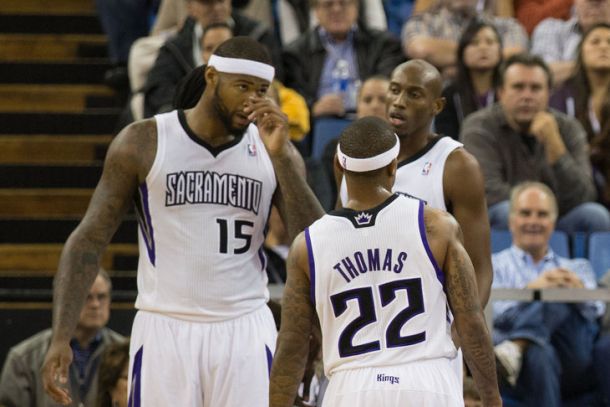 The Sacramento Kings have been extremely active this summer. They have made plenty of moves, but nothing that has greatly improved their roster.
First and foremost, the Kings opted not to re-sign Isaiah Thomas, even after Thomas delivered career-highs of 20.3 points, 6.3 assists, and 1.3 steals. Sacramento was just not satisfied with his lack of size on defense and did not want to pay him the contract he was asking for.
In place of Thomas, the Kings signed Darren Collison, who is a solid pick up. However, Collison is unlikely to match the offensive firepower Thomas brought to the Kings. Collison averaged 11.4 points, 3.7 assists, and 1.2 steals per game off the bench for the Los Angeles Clippers last season. Those numbers may increase since he might be a starter in Sacramento, but he may still not match the numbers that Thomas put up.
Sacramento has re-acquired Omri Casspi this summer. Casspi started his career in Sacramento, where he had his best years. He reckons to serve as a three-point shooter off the bench. Although Casspi has been inconsistent over the past couple of years, the Kings want him for extra wing depth and shooting.
The Kings have made a couple of trades this off-season as well. The first one was a trade with the New York Knicks. The Kings sent Quincy Acy and Travis Outlaw to the Knicks for Wayne Ellington and Jeremy Tyler. The Kings have since waived both Ellington and Tyler in order to create cap room. Acy, however, was a solid addition for the Kings last season. He brought a burst of energy night in and night out, but Sacramento just wanted to dump his salary.
The next trade was made with the Houston Rockets. The Kings dealt Jason Terry to the Rockets for the expiring contracts of Alonzo Gee, Scotty Hopson, and a $5.8 million trade exception. Yet again, this was another salary dump for the Kings. Now, they can waive Alonzo Gee and Scotty Hopson if they want to.
The Kings highest point in the off-season came just recently when they signed Ryan Hollins and Ramon Sessions. Hollins may play backup to DeMarcus Cousins and is a high energy player who can block shots and rebound. As for Sessions, Sacramento wants him to play the role of a combo guard. He could supply the Kings with scoring and play making and will possibly come off the bench. Sessions was arguably the best pick up this off-season for Sacramento.
The Sacramento Kings are the only team with a complete 20-man training camp roster. Their off-season started off poorly, but they have rebounded well and have had a decent costless agency period. However, the Kings have not made major moves that would pull them out of mediocrity. They are still expected to be at the bottom of the Western Conference this upcoming season.
Grade: C
Depth Chart:
PG: Darren Collison/Ramon Sessions/Ray McCallum/Deonte Burton/Trey Johnson
SG: Ben McLemore/Nik Stauskas/Scotty Hopson
SF: Rudy Gay/Derrick Williams/Omri Casspi/Alonzo Gee/David Wear
PF: Jason Thompson/Carl Landry/Reggie Evans/Eric Moreland
C: DeMarcus Cousins/Sim Bhullar/Ryan Hollins
Coach: Mike Malone