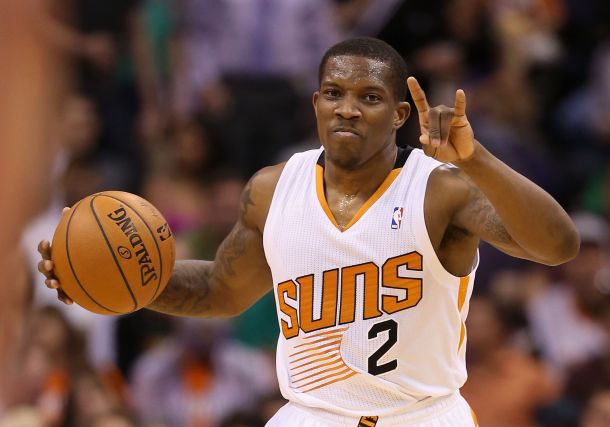 After 86 days on the costless agent market, Eric Bledsoe has finally reached an agreement on a new deal. Bledsoe has agreed to sign a five-year, $70 million contract with the Phoenix Suns, according to Adrian Wojnarowski of Yahoo! Sports.
As a restricted costless agent, Bledsoe was not receiving any offers. The Minnesota Timberwolves were the only team to offer him a maximum contract, but they had to acquire Bledsoe via sign-and-trade, in which the Suns were not interested.
Bledsoe's relationship with Phoenix has been rocky through this entire process, but both sides set aside their differences and agreed on a deal before the start of training camp later this week.
The Suns offered Bledsoe a four-year, $48 million deal early in the off-season, in which Bledsoe declined. Now, with his new deal, Bledsoe will be paid $14 million annually, which is very close to what he wanted. There are reportedly no options on Bledsoe's contract. It will be a straight up five year deal.
The Suns did not want Bledsoe to sign the $3.7 million qualifying offer with them because that would make Bledsoe an unrestricted costless agent next summer, which would raise the possibilities of him signing elsewhere.
Eric Bledsoe missed 39 games last season due to a knee injury, but he significantly improved his all-around game and served as a combo guard for the team. This season, he may see more minutes at the two-guard since Isaiah Thomas will be coming off the bench as the backup point guard. Phoenix has accomplished what they wanted all along – a combination of Thomas, Bledsoe, and Goran Dragic sharing the guard positions.
With the Phoenix Suns guaranteeing so much money to Bledsoe, it remains to be seen if they will still continue their pursuit of Goran's younger brother, Zoran Dragic. Phoenix would need to buyout Zoran from his current contract in Spain.
Nonetheless, the Eric Bledsoe drama has now ended. One of the best costless agents going into this year's costless agency has finally been signed.