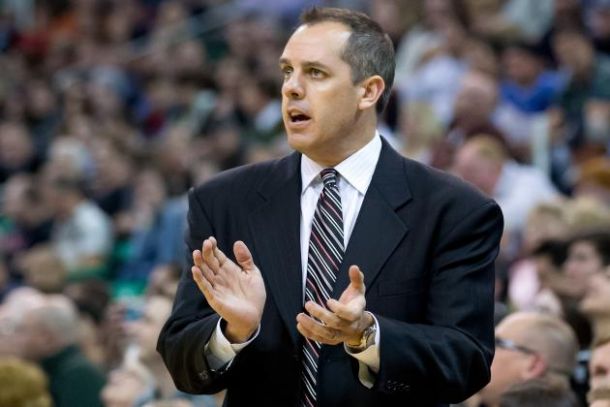 Frank Vogel has signed a multi-year contract extension with the Indiana Pacers, the team has announced. The complete terms of Vogel's contract have yet to be disclosed, per team policy.
Vogel took over the coaching job in Indiana during the 2010-2011 NBA season after Jim O'Brien was fired. He has led the Pacers to a 167-100 record, a .633 winning percentage, since taking over. He has coached Indiana to the playoffs every single year, with the team making it further in the playoffs every season.
Frank Vogel was also named the coach for the Eastern Conference All-Stars last season. He was honored with the Eastern Conference Coach of the Month twice last year. However, when the Pacers were mightily struggling during the latter half of last season, there were rumors that Vogel's job was at stake, but the Pacers did not give up on him as Vogel got the Pacers back into the conference finals.
"I'm excited for the opportunity to continue my tenure as Pacers' coach," Vogel said. "It's an honor to represent this franchise and lead this team. I look forward to the challenge ahead. I'm grateful to have had good, coachable teams along with coaching staffs that have been second to none," Vogel added.
"We're very happy to extend Frank's contract," Larry Bird, the Pacers' President of Basketball Operations said. "I believe he has done a great job and I look forward to continuing our relationship and working together to achieve all of our goals."