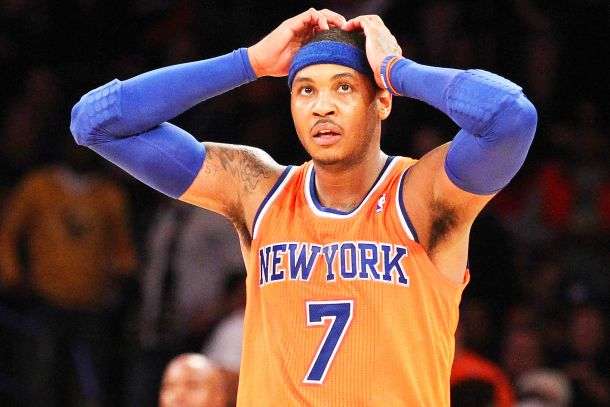 The projected starting lineup for New York is Shane Larkin, Iman Shumpert, Quincy Acy, Carmelo Anthony and Samuel Dalembert. For Utah, Trey Burke, Alec Burks, Gordon Hayward, Derrick Favors and Enes Kanter.
Coming off a close game against the Orlando Magic, the Knicks will look to finally pick up their second win of the month. The last victory for New York came on November 2, against the Charlotte Hornets. The Jazz are having some struggles as well, having lost three of their last four matchups.
Utah is a team with lots of young talent. They come into New York with a 1-4 road record. They are 20th in points per game, and they score about 97 on the road. On Wednesday night, they battled a close game against the Atlanta Hawks but came up a bit short in a three-point loss.
Hayward will be a player to look out for. He has been playing some good basketball for Utah, including knocking down a buzzer beater shot to win a game. The Knicks will look to likely match him up with Shumpert. Not only can Hayward score, but he put up solid rebounding and assist numbers. He averages six rebounds and five assists per game. Another key guy to look out for will be Alec Burks. His ability to put up points in a hurry could create issues for New York. Big man Favors and Kanter can also pick put up some big rebounding numbers.
What is really making the Knicks struggle is the scoring. They currently rank last in the league in that category. In this young season, they have yet to reach the 100-point mark in a game. As each passing lost, more people begin to question whether the triangle system is the best fit for this team. New York has had their share of close games and has had the opportunity to win it all in the final minutes of games, but have been coming up short.

Knicks coach Derek Fisher said, "We're a team that's working to create a new identity in the face of what used to be. And right now, our guys aren't trusting that they know how to win and close these games out. And we have to find a way to break through that fear of failing."
Anthony has struggled with his shooting during this losing streak, but he did have a solid game in their previous game. He ended it with 27 points on 10-for-17 shooting. As a team, they will have to find a way to work together and contribute to put an end to this nightmare.
The game will start at 7:30 P.M EST.