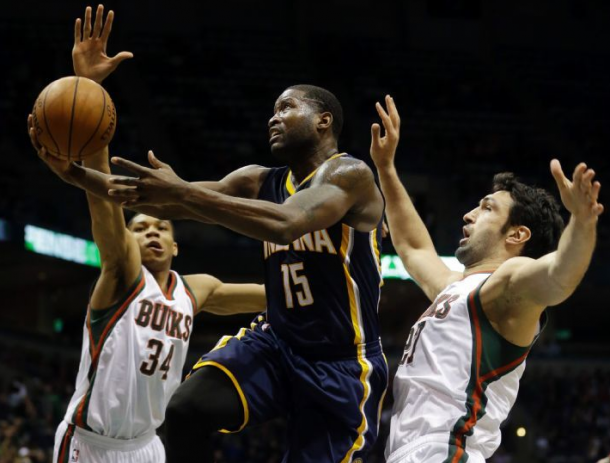 The Indiana Pacers defeated the Milwaukee Bucks, 94-91, Friday night and had five players score in double figures for their fifth win in seven games.
C.J. Miles led the way with 22 points, hitting six threes, and Roy Hibbert added 18. Rodney Stuckey finished with 11 points and Luis Scola had 14.
As for Milwaukee, Brandon Knight scored 20 points on 9-of-19 shooting, and John Henson had 14. Center Zaza Pachulia notched a double-double with 12 points and 14 rebounds.
Both teams got off to a cold start as they went 0-of-11 before Hibbert hit a jump hook but after the rough start, both teams got into a rhythm and traded baskets until the end of the quarter with Indiana leading by just two, 23-21.
Unlike the first, the Bucks came out strong in the second, as they went on an 11-4 run to take a 32-27 lead, and the Pacers answered with a 9-4 run to tie it back up at 36. Milwaukee ended the quarter on a strong note, shooting 65 percent, to make it 53-46. Knight had 12 points for Milwaukee, while Miles led the way for Indiana with 13, hitting three out of four three pointers.
The Pacers were poised to make a strong run in the third and outscored the Bucks, 20-15, as it was 68-66 heading into the final period. Donald Sloan hit a three to put the Pacers up, 73-72, in the fourth, and they never looked back. After Henson made a dunk at the 7:43 mark of the game to make it 78-76, the Bucks went nearly seven minutes without a field goal until Khris Middleton had a lay-up with 49 seconds left. By that time, the Pacers had an 87-82 lead and hit their costless throws down the stretch to hold off the Bucks for the victory.
Despite being outscored 17-0 on fast break points, the Pacers got to the charity stripe ten more times and made eight more than Milwaukee.
Coming up, the Pacers will visit the Los Angeles Lakers, while the Bucks will be in New York to take on the Knicks.