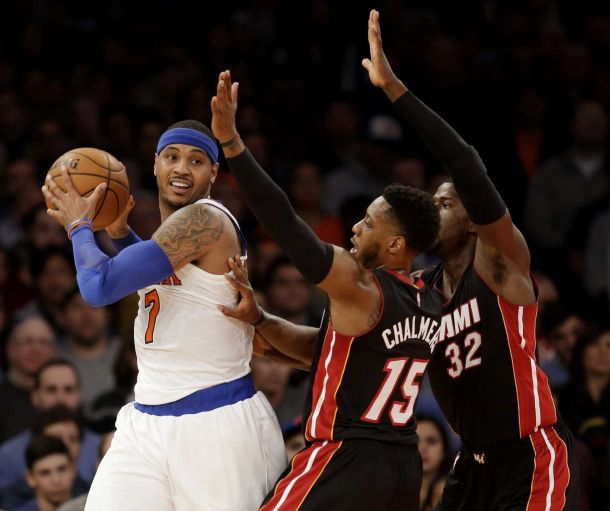 It was a moral victory for the Knicks on Saturday night as they lost 106-92 to the best in the West, the Golden State Warriors. Without Carmelo Anthony and a less-than-stellar starting five or entire roster for that matter, the Knicks managed to cut a 24-point Warriors lead to just five in the fourth quarter, holding Stephen Curry to 22 points and Klay Thompson to 16. Given the duo's phenomenal scoring performances this season, the Knicks gained a ton of dignity to walk away with. Monday night, the Knicks travel to Miami to face the Heat for their second matchup of a three-game series.
In their last matchup, the Knicks fell short by just seven points, which became the fourth loss of a ten-game losing streak. Despite Carmelo Anthony's 31 points, the Knicks were unable to overcome Wade and Bosh's 47 combined points and Luol Deng's double-double. Perhaps without Wade on the court, the Knicks will be able to scrape up their 11th win of the season.
Much to the Heat's dismay and playoff aspirations, Dwyane Wade, who is averaging 21.4 points this season, is expected to miss another one to two weeks with a strained hamstring, making this his sixth consecutive missed game. As the Heat continue to struggle without their star, losing four out of their last five games, the eighth spot in the Eastern Conference continuously slips from under them. With the Brooklyn Nets uncomfortably close behind, the Heat could desperately use a win. Coming off of a 98-85 loss to the San Antonio Spurs, the Heat's flame is beginning to dwindle. Playing the 10-41 Knicks, who have also dropped four out of their last five, may result in the victory they need.
The Knicks, on the other hand, have little to nothing to lose other than morale at this point. As far as draft picks are concerned, losing seems to be the more favorable route. However, with a rejuvenated energy attributed to players such as Langston Galloway and Lance Thomas, the Knicks remain an unpredictable outcome.
Tune in to MSG Monday night at 7:30 PM to watch the Miami Heat and New York Knicks faceoff.