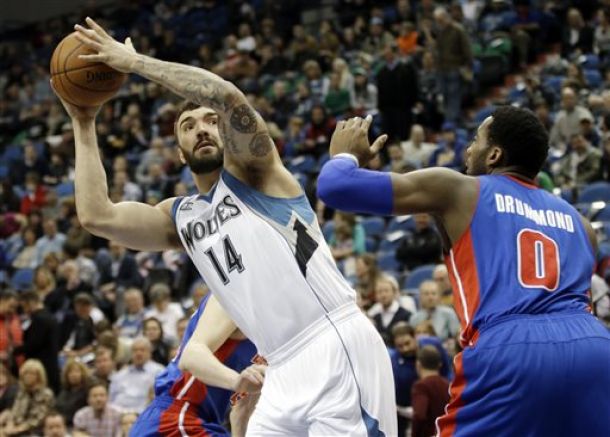 The Detroit Pistons just can't quite right their ship since the loss of Brandon Jennings. Since losing their floor general, the team hasn't been able to string together more than two wins. Despite taking down Miami, they lost a gritty game against the Pacers and fell tonight to the Timberwolves.

Minnesota got to the line 34 times and only missed five times, giving them 29 points from the charity stripe alone. Center Nikola Pekovic led the way with 29 points and had his way with Pistons center Andre Drummond in the post. Kevin Martin flirted with a double-double with 24 points and nine boards, and was the offensive spark that his team needed tonight. Rookie sensation Andrew Wiggins filled the stat sheet, scoring 18 points to go with eight rebounds and five assists as he and Martin continue to lead the Wolves offensive attack.

For Detroit, it was another poor performance from Kyle Singler. He scored five points and only attempted five shots from the field. The lack of scoring from the small forward spot has put extra pressure on players like D.J. Augustin and Greg Monroe, who played well tonight, despite the loss. The former had 20 points and eight assists, while the latter scored 15 points and grabbed nine rebounds. Anthony Tolliver scored 15 off the bench, as he continues to capitalize on his increased minutes. Tolliver has all but swiped the backup big man spot on the team from Jonas Jerebko, who has seen limited playing time since Tolliver arrived to Detroit.

For the Pistons, the fouls were certainly an issue. Drummond found himself in foul trouble, and the team committed 25 total fouls. When a team scores about 1/4 of their points from the free-throw line, the defense needs to tighten up. Detroit's defense has been middle of the pack this season, although Kentavious Caldwell-Pope and Andre Drummond have both stood out.
The Pistons will travel to take on the New Orleans Pelicans Tuesday at 7:00 PM EST, while the Timberwolves will look to get another victory tomorrow night, as they host the NBA's top-dog Atlanta Hawks at 8:00 PM EST.