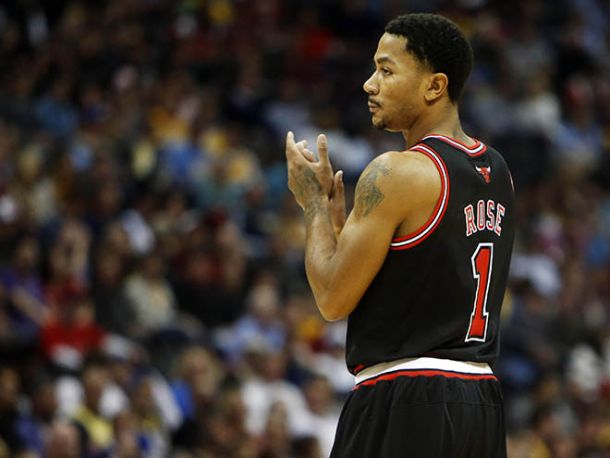 Derrick Rose. As simple as that.
In the last 15 games, the Bulls have lost 10, a ratio which is unacceptable for a team of Chicago's caliber. And although Rose may be a premiere player on the depth chart, he's secretly hindering their ability to win games and advance deep into the playoffs.
Several sports networks have noted that the Bulls' defense being out of sync is the key to their struggles, but looking at recent games and overall season statistics, it's easy to refute such claims. For example, it is often said that the best offense is a strong defense, and in Chicago's case over the last few years, this is entirely true. They've consistently placed top five in the NBA for least points allowed in the Tom Thibodeau era, but are currently sitting in 18th place, giving up 100 points per game.
After reading several different articles , popular opinion seems to be that a strong defense can defend screens proficiently, prevent point guard penetration and deny outlet passes to wingers. Meeting these requirements comes down solely to the point guard's defense in Chicago's case. Jimmy Butler is a top tier defender, averaging two steals a game and holding opponents to an average of under 20 points a night. Joakim Noah and Pau Gasol are both excellent shot blockers; they combine with Taj Gibson to record four of the teams six blocks per game. What this essentially means is that D-Rose is the weak link in the defense.
He allows the opposing guard to break by him, creating openings for wingers and big men to score easy buckets. Butler, Gasol, and Noah all play their role on D, but if the point guard can get dribble penetration every time down the floor, there's nothing more they can do.
Looking at this season's matchups Rose participated in (which is another topic that will be discussed later), he gave up a significantly greater amount of points when Chicago lost than when they won. In losses, the starting point guard Rose would theoretically be guarding scored 19 points and dished out seven assists. In wins, they only scored 13 points and seven assists.
Based on these stats, it seems reasonable to infer that when Rose isn't defending well, the Bulls are more likely to lose.
In addition, the number of assists didn't change between wins and losses. Although games like the one at the beginning of the season against the Minnesota Timberwolves when Ricky Rubio had 17 assists do skew the data, the amount of assists are still very close. This can be attributed to solid defense by other members of the starting squad. Even when D-Rose is allowing guards to blow by him, they defend strongly and prevent too many more points from being scored.
Even with the support of several different stats, however, it's tough to blame one player for the downfall of a whole defense. Point guards on the other team performing well do have a direct correlation to Chicago's losses, but this can be said about many other teams since point guards are normally the keystone of the offense.
Rose's defensive woes aren't the only aspect of his game holding the Bulls back. On offense, he is a great scorer, there's no doubt about that. But the manner in which he scores is a problem. Being tied for second highest scorer on the team with Pau Gasol, Rose takes 17 shots a game, three more than Gasol and Butler. He isn't efficient, shooting a woeful 40 percent from the field and 29 percent from beyond the arc.
Not only are his shooting numbers lower than normal, but this season Rose is averaging five assists a night, two less than his career average. Even with scorers like Butler and Gasol on the floor, Rose simply isn't passing enough to be considered a point guard. He is 23rd among point guards in assist numbers this year, but top six in turnovers.
Jimmy Butler's emergence as a force on both ends of the floor has enabled Chicago to no longer require a scoring shooting guard. Plus, Gasol is having his best year yet, scoring more points than he has in the past three seasons with Los Angeles. Combined, these two take 34 percent of the team's shots and score 38 percent of their points. If you throw Rose into the mix, the trio take 56 percent of the shots and score 56 percent of the points. The addition of Rose causes a drop in the Bulls' efficiency.
But we're not done yet. Not only does Rose inhibit Chicago's true potential on offense and causes a lot of the problems on defense, he is also taking up precious salary cap space.
Back in 2012, he signed a five-year, $94.3 million deal, which is an average of $18.86 million a year. He'll become an unrestricted free agent after the 2015-2016 season, so if the Bulls don't have enough money to re-sign him, the only benefit of his exit is opening up cap room. This may not sound too bad, but they can't wait until after next season.
The Bulls are clearly trying to change something with their lineup because Taj Gibson is reportedly being actively shopped, with Portland and Toronto as interested parties. They have the right idea of making a move now rather than later, but not the right player.
By trading Rose for a pass first point guard, not only is cap space vacated, but it also allows guys like Butler and Gasol to grow. Jimmy Butler's contract expires this year, and he becomes a restricted free agent. Back in November, Chicago attempted to re-sign him with a four-year, $40 million deal, but after seeing Klay Thompson's four-year, $70 million deal, he took a risk. At the time, Butler was rising up in player rankings, but could've easily reverted back to last season's stats, consequently dropping his salary. He is continuing to play well, and the Bulls will be forced to spend a lot of money in order to keep the star on the team.
If Rose is kept on the roster, they simply won't have enough space to re-sign Butler and another lucky team will be blessed with his talent. But waiting two years to not re-sign him is too long a wait for a team with such high potential. This writer has compiled a list of teams in trouble who have a solid point guard, but he isn't a right fit for them.
The teams Chicago would be smart to trade with are:
Detroit – After losing Jennings for the season, the Pistons are sliding downhill almost as fast as they did with Josh Smith. With Jennings injured, they may be more willing to deal him. A young point guard who has the ability to pass the ball tremendously would set the Bulls up for success. The only problem is, he won't be able to return until next year, and Chicago needs to make a run now.
Denver – The Nuggets are playing terrible recently. They've scored less than 100 points in nine of their last 12, and have lost 11 of those games. Ty Lawson is currently top five in assists, recording an average of 10 per night. If he had a better offense to pass to, he could dish out 15-plus assists every game. Plus, Denver needs a scorer, and Rose is certainly capable of doing so.
New Orleans – Although the Pelicans are 26-23, they aren't quite living up to the hype set at the start of this year. Anthony Davis has been on and off the floor, and now Jrue Holiday is out for a few more weeks. Rose is a big name in the world of basketball, and New Orleans shouldn't shy away from a deal with him involved, even if it were for Holiday and someone else.
Not to ruin Rose's image with yet another possible problem surrounding his play for Chicago, but there's one last reason why trading him is a beneficial idea. You can't talk about him and not mention injuries. Everyone knows the deal, D-Rose is and has always been a risk. The past injuries are clearly affecting him. The high flyer has had just two dunks this whole year, just two.
With Carlos Boozer currently occupying Chicago's amnesty position for one last season, an injury now to Rose could be deadly. Even though they're 7-4 without Rose so far, the future implications of another leg injury are not good. His contract is guaranteed, so they'll be forced to continue paying him even if he misses he remainder of the season. His injury habits could hinder Chicago's ability to trade him, but sometimes it's necessary to take a risk in the off chance it turns out to be helpful.