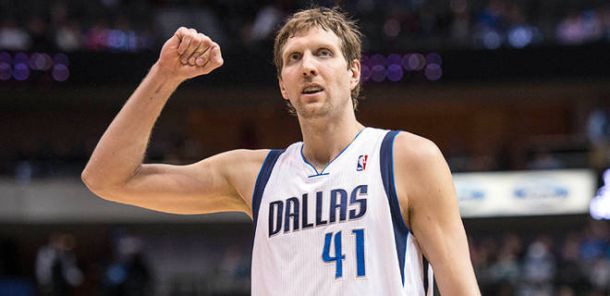 Anthony Davis released a statement Wednesday night that he won't be participating in Sunday night's All-Star game. It is now being reported that Mavericks forward Dirk Nowitzki will be replacing Davis and be making his 13th All-Star appearance.
The Mavericks had been the team with the winningest record in the NBA without a representative in the All-Star game. Nowitzki's selection to the All-Star game is well deserved as he's continued to be as efficient as ever despite his minutes being more limited this season.
Head coach Rick Carlisle had this to say on Nowitzki being selected to replace Davis.
"He's compiling one of the all-time great resumes in NBA history and this is part of it. It's a little disappointing that he can't just kind of disappear and enjoy some real off time. But this is one of the responsbilities that comes with greatness and he understands that."
Nowitzki is averaging 18.3 points on 47 percent shooting along with 5.9 rebounds and posting a player efficiently rating of 20.72. He will become just one of twelve NBA players to be selected to 13 or more All-Star selections.
Davis suffered an injury to his right shoulder after he took a horizontal fall to the court during an alley-oop dunk Saturday, February 7. Davis is averaging 24.5 points, 10.3 rebounds, and 2.8 blocks per game, leading the Pelicans in each category.