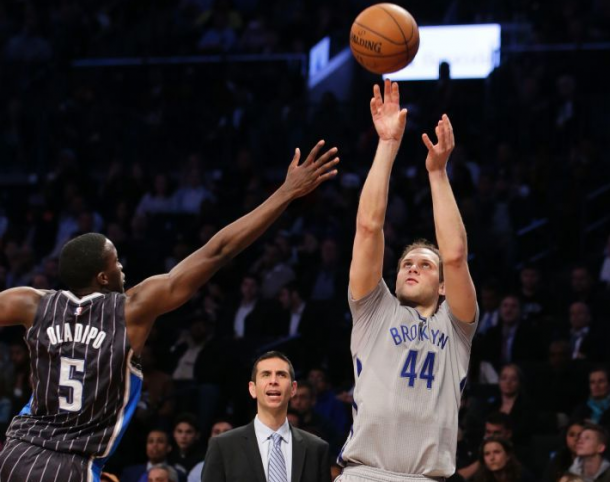 In a decisive night, the Nets have locked up the eighth seed after the Indiana Pacers fell short to the Memphis Grizzlies.
Brooklyn started the game allowing 28 points and allowing the opposing team to shoot at 62 percent. Not everything was going positive for Orlando in the first period, however, as they turned the ball over six times. By halftime, the Nets still found themselves trailing by five points. No Nets starter was able to reach double digits in scoring, but Bojan Bogdanovic sparked the team early on with 15 points off the bench. Nikola Vucevic was doing damage early on with 14 first half points.
Orlando began the third frame shooting 5 of 5 from the field. Brooklyn started to turn things around from that point, as they cut the lead to just three midway through the period. The Nets outscored the opposing team, 27-23, in big part due to Bogdanovic's hot shooting.
For the final 12 minutes of the game, Brooklyn was able to keep the young Orlando team to just 13 points, while they put up 26. Bogdanovic concluded the game with a career-high 28 points on 12 of 17 shooting. Thaddeus Young contributed with 16 points and one rebound shy of a double-double. Joe Johnson was able to find his offense in the final period as he finished with 16 points and six assists. Vucevic led Orlando with 26 points and 11 boards. Turnovers turned out to be a huge deciding factor for the Magic, as they ended the night with 17.
Brooklyn wraps up the season 38-44 while the Magic finish at 25-57. The Nets have made the playoffs every year since their move from New Jersey to Brooklyn. They will now play the first-seeded Atlanta Hawks in the first round of the playoffs. Game One will be on Sunday, April 19th, in Atlanta.