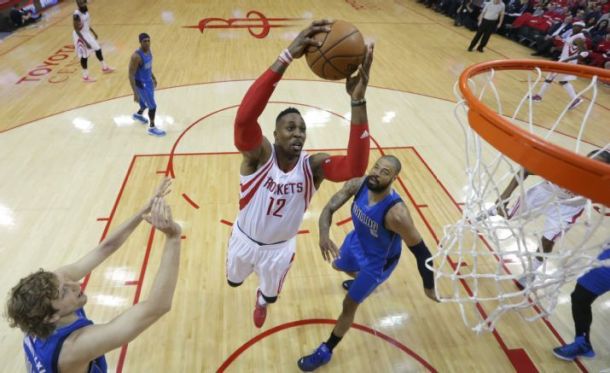 It was a great game for MVP candidate James Harden, who opened up the series with a 24 point, 11 assist double-double in Houston's 118-108 win over the Mavericks in game one. Dirk Nowitzki led Dallas in scoring with 24 points himself.
The Rockets came out and dominated the first quarter, outscoring the Mavs 32-19 in the opening frame. Dwight Howard looked unstoppable in the first, and his play inside opened up shots for the outside shooters. After Dirk Nowitzki scored the opening bucket, Houston reeled off nine in a row and would lead for almost the rest of the game. The Rockets were on fire from downtown and led by as many as 14 in the first frame.
In the second, Dallas came to life. They scored 36 points in the quarter, almost double their output in the first. Down 40-34, Dallas went on an 8-0 run to take the lead momentarily at 42-40, capped off by a Rajon Rondo shot. It went back and forth the rest of the quarter until Houston took back the lead at 56-55, and then they would take a 59-55 lead into halftime.
Houston jumped out to start the third quarter, scoring the first six to push the lead back up to ten at 65-55. As was common in the second half, every time Dallas made a run to get back in it, the Rockets would push back and prevent Dallas from getting within striking distance. Down 14 at 84-70 with 2:05 to go in the quarter, Dallas made another push to get within seven by closing the quarter on a 7-0 run to send it to the fourth 84-77 Houston.
In the fourth, Houston kept Dallas at bay, with the closest the Mavericks got being six at 95-89. But once again, Houston had an answer. Terrence Jones made two foul shots and Corey Brewer made his grand appearance, with the first of a series of threes that helped make the difference for Houston over the final few minutes. From there Houston cruised to a 10 point win.
The series will continue on Tuesday night in Houston with game two. Check out more NBA articles at VAVEL USA for all your playoff coverage.