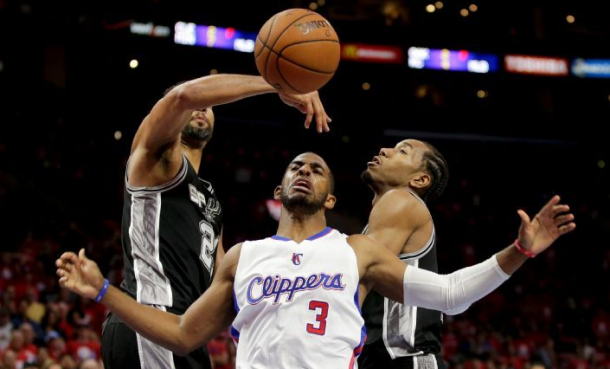 It was a sold out crowd at the STAPLES Center, with red t-shirts flooding the stands, ready for Game 1 of the San Antonio Spurs and Los Angeles Clippers.
Clipper fans were louder than ever right from the beginning of the game, cheering on their team as they got off to a fast start, owning a 30-18 lead to end the first quarter.
Kawhi Leonard got into early foul trouble, receiving two of them in the opening period and having to sit. The Spurs were also frigid from the foul line, missing six free throws in the first 12 minutes.
In the second quarter, the Spurs execution was on point as it has been throughout the years. With the bench unit on the floor, the Spurs went on a 10-0 run to start the second period to cut the Clippers lead to two.
San Antonio eventually grabbed a two-point lead, but the Clippers responded and took a six-point lead to the locker room. The Hack-A-Jordan tactic was in full effect late in the second, but Jordan hit 4 of 8 to help his team maintain the lead.
The Spurs shot below 36 percent in the first half, but they still remained within striking distance. Parker had just two points, while Leonard had nine to lead the Spurs. Tim Duncan, who collected three fouls in the half, added six points.
Blake Griffin had 13 at the half to lead the Clippers, as Jamal Crawford contributed with nine off the pine.
The intensity of the game picked up in the third period, as the Clippers kept pushing to get early offense. Blake Griffin, who added 10 more points in the third, racked up a couple of highlight reel plays, posterizing Aron Baynes on one play and spinning for a thunderous dunk on the other.
Jamal Crawford and Chris Paul finished the job out in the final stanza to lead the Clippers to a 107-92 victory to take Game 1 from the defending champions.
The Spurs did not improve their shooting to finish out the contest. They shot an abysmal 36.6 percent from the field and 53.8 percent from the charity stripe, leaving a lot of points on the line.
Danny Green, who is a significant part of San Antonio's offense, struggled mightily, going 2 of 11 from the field for six points. Kawhi Leonard led the way with 18 points and four steals.
The Clippers were extremely efficient, making over 51 percent of their shots. Chris Paul guided them with 32 points, seven rebounds, and six assists on 13 of 20 shooting. Blake Griffin filled up the stat sheet with 26 points, 12 rebounds, six assists, three steals, and three blocks. Jamal Crawford logged 17 points off the bench on 7 of 10 shooting in just 23 minutes.
"Jamal is on of those guys that I don't worry about that much as far as rhythm goes just because it seems like he could not play for a year and come out on the court and give you 20, 30 points on any given night," Blake Griffin said of his teammate. "The way he played tonight was unbelievable, and it looks like he hasn't even lost a step. He worked hard to get back, and I think it showed."
Tony Parker, who finished with just 10 points on 4 of 11 shooting, believed that the team just missed makeable shots.
"Ball in my hands and I tried to give it up as soon as I can. But we just didn't make shots. We had the shots. I'd be willing to trust my teammates and if they're going to do that strategy, once we make shots then maybe it'll come back to me," Parker said after the loss.
Parker also hurt himself a couple times during the game, but he said he will be "fine" moving forward.
"To start with twisting my ankle, I was like, come on...couldn't believe it, had to re-tape. But, hey, it's like that. We've been in a lot of different situations since I've been with the Spurs, and we just have to stay together and keep pushing and try to come back," Parker proclaimed.
"Yeah, definitely [helps to have a few days off]," Parker said. "That definitely helps because it will be sore tomorrow. Hopefully by Wednesday, hopefully I'll be fine."
The Spurs, for the most part, looked rugged offensively. They did have open looks but missed. However, it seems like they allowed the Clippers to play at their pace, which ultimately led to sloppy play by San Antonio.
"We made a bunch of mistakes. But overall, they just played better," Manu Ginobili said. "Their defense was way more solid. We could not get anything easy. Even in situations where we got something easy, we could not make shots. Free throws - we missed a lot early in the game. But they just played better," Ginobili added.
The Clippers take a 1-0 lead in the series, looking to build off the momentum from tonight moving ahead.
"We won. It's one game. It is what it is. I know from guarding Tony he missed a lot of shots that he could have made," Chris Paul added.
Game 2 will be on Wednesday, April 22nd, at 10:30 pm EST in Los Angeles.