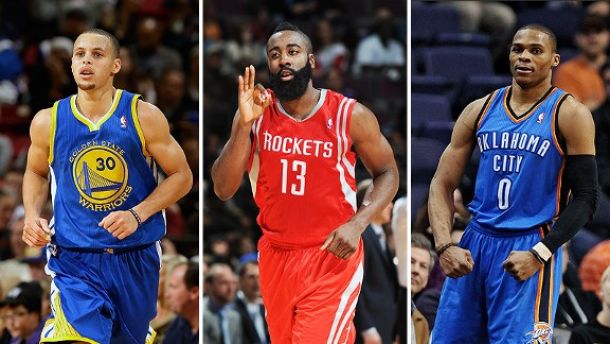 Every season, the NBA has a committee elect All-NBA teams for the best players at each position around the league. The first, second, and third teams are selected for the general best players, and so the writers at VAVEL thought that it would be a good opportunity to get opinions out on who should be named to these teams. Take a look at VAVEL NBA writers Phillip Steinmetz, Elijah Ackerman, and Zach Drapkin's picks and explanations for the 2015 All-NBA teams.
---
All-NBA First Team
---
Phillip's Picks:
G Stephen Curry - Best player on the best team. One of the greatest shooters of all time. Enough said.
G James Harden - The Bearded Man led an injured Rockets team to the second seed in a loaded West. Houston wouldn't even be a playoff team without him.
F LeBron James - Still the best player on the planet. The Cavs weren't a playoff team last year but LeBron came home to lead them to the 2 seed.
F/C Anthony Davis - Second year in the NBA, right? AD is already the best big man in the league and has yet to reach his prime.
C DeAndre Jordan - Jordan was too dominant this season to not be picked. He led the NBA in FG%, rebounds, and top 5 in blocks.
Elijah's Picks:
G Stephen Curry - He was the best player on what was by far the best team, simple as that.
G James Harden - Harden might win MVP, and he's carried the Rockets through a sea of injuries all season long. Not only did he keep Houston going, but he led them to the two seed in the wild, wild Western Conference.
F LeBron James - It's hard not to put LeBron on the first team, because he's LeBron James. Sure, he took two weeks off in the middle of the season after a sluggish start, but the king has brought Cleveland into a state of being seen as the far and away favorite in the East.
F/C Anthony Davis - The Brow had one of the best seasons of all time, according to his PER. Not only did he average 24 points and 10 rebounds per game, but Davis also averaged 3 blocks a game. This is only the beginning for AD, and who knows what he'll do next.
C DeMarcus Cousins - Boogie Cousins was outstanding all year, and the Kings would be just awful without him. He averaged 24 points, 13 rebounds, and 3.6 assists per game. DeMarcus has done it all, and he's done that all season long.
Drap's Picks:
G Russell Westbrook - Westbrook started the season out with injury, and the Thunder suffered without him and 2014 MVP Kevin Durant. Durant was out for most of the season, as well as Serge Ibaka being out for many games. Russell turned a 3-12 Thunder team from the year's start into a near playoff team, finishing with a 45-37 record. Westbrook himself finished with the league lead in scoring per game, he was top 5 in asissts per game, and grabbed the most boards per game of any guard (led by 1.5 rebounds per game!). His defense (2.1 steals per game) sets him apart from the lazy James Harden here.
G Stephen Curry - Steph is a near lock for MVP in 2015 and he led the Warriors to the NBA's top record, and already one playoff series sweep. Easy pick here.
F LeBron James - LeBron is the best player on the planet and a freak of nature. Enough said. And KD was out (along with Paul George), so there was no real competition.
F/C Anthony Davis - AD had one of the most efficient seasons in recent memory, and averaged a double-double over the season to lead NOLA to the playoffs. His 24.4 points per game were fourth in the league, and he was the top shot blocker in the NBA with 2.9 blocks per game. His 10.2 RPG were good enough to tie for 8th in the league as well. And keep in mind, this was only Davis's third NBA season.
C DeAndre Jordan - DeAndre was extremely dominant in 2015. He averaged a double-double with 11.5 PPG, and an astonishing and league-leading 15 rebounds per contest. Jordan also was fourth in blocks per game over the season, snatched a steal a game, and helped lead the Clippers to the third seed in the wild, wild Western Conference. Not to mention that he was the league's most efficient field goal shooter by far; his 71 percent shooting clip outnumbered opponents by 13.8 percent.
---
All-NBA Second Team
---
Phillip's Picks:
G Chris Paul - CP3 threw himself into the MVP category late into the season. Paul again led the NBA in assists and was the best floor general in the league.
G Russell Westbrook - Should be a first team member, but can't due to the selection rules. Harden deserves to be on the first team and Curry is going to win MVP, so it forces Westbrook down despite leading the league in scoring and nearly bringing OKC all the way to a playoff appearance.
F Kawhi Leonard - Already won DPOTY after leading the league in steals. Leonard has a Finals MVP under his belt and is only getting better.
F/C Pau Gasol - Pau's 1st year on the Bulls was one of the best in his career. Gasol started in the All-Star game and was the best player on Chicago after the team was without D-Rose for most of the season.
C DeMarcus Cousins - Another young Kentucky player breaking out this season. He was top 5 in scoring and rebounds even though the Kings didn't finish with a very respectable record.
Elijah's Picks:
G Chris Paul - CP3's numbers might not pop out at you, but Paul still had an impressive season, in which he managed to bring the Clippers up to the 3 seed while surviving injuries and a lack of depth.
G Russell Westbrook - Russ's team didn't make the playoffs, but that's not because of his own doing. In 2014-15, Russell ranged from incredible to unbelievable to even more incredible. He did it all, but not making the playoffs might be the reason for him not making the First Team, but Russ was possibly the biggest story of the season.
F Blake Griffin - Blake took a significant step this season. While he's still a high flyer, Griffin has added an interesting arsenal of post moves into his game, as well as an ever improving jump shot. He even beat the Suns on a buzzer beating three this year! Not only has BG racked up points, but he also averaged 7.6 rebounds and 5.3 assists per game over the season while also shooting 50% from the field.
F/C Pau Gasol - Pau has been everything the Bulls wanted. He scores, he rebounds, and when he's on the floor, Chicago's usually stagnant offense comes to ball-moving life. Without him, the Bulls could have wound up with the sixth seed, not the third seed.
C DeAndre Jordan - The third and final Clipper on this writer's All-NBA Second Team, Jordan had a monstrous second half to the season. After the All-Star break, DeAndre averaged 13 points, 17 rebounds, and 2 blocks per game. That's just plain ridiculous. Jordan also led the league in field goal percentage by far, shooting 71% on the season. This was a contract year for Jordan, and it might have been one of the best contract years seen in recent years, heck, maybe ever.
Drap's Picks:
G Chris Paul - Paul is a natural floor general for Lob City, as he led the league in assists per game (10.2 APG) once again in 2015. CP3 also averaged 19.2 points per game, 4.6 rebounds per contest, and also 1.9 steals per game. Paul is a superstar at the point for the LA Clippers, and has led the team to a third-seeded playoff birth.
G James Harden - Harden was an electrifying offensive player in 2015, coming second in scoring per game and dishing out 7 assists per game. Harden also grabbed 5.7 rebounds per contest on the year, leading the Rockets to the second-seeded position in the Western Conference Playoffs. The Beard is lackadaisical on defense, to say the least, which is why he did not make the All-NBA First Team in Drap's mind. James Harden is still a viable MVP candidate and elite NBA superstar, but needs to work at becoming a stellar player on both ends of the floor. Luckily for now, he has Dwight Howard swatting shots away in the paint for him.
F Kawhi Leonard - Kawhi has emerged as a star on this experienced Spurs squad, especially on the defensive end on the floor. Leonard was voted Defensive Player of the Year in 2015, after shutting down opposing matchups on a nightly basis, leading the league in steals (with 2.31 steals per game), and also grabbing 7.2 boards a game, nearly six of those on defense per contest. Kawhi has also significantly enhanced his offensive game, averaging 16.5 points per contest, dropping 2.5 dimes per game, all while shooting a respectable career-low of 47.9 percent from the field and only turning the rock over 1.5 times per game.
F/C LaMarcus Aldridge - Aldridge was once again a top-ten rebounder and scorer in 2015, and was the veteran leader on this fifth-seeded Blazers team. These stats have only been improving over his career, and set a new career high in points per game, with 23.4. He held down the fort inside for Rip City.
C DeMarcus Cousins - Cousins has emerged as a monster in the lane for Sac-Town, and has averaged humongous double-double figures for the Kings, who still haven't been able to break into the playoffs. Boogie Cousins dropping 24.1 points per contest, grabbed 12.7 boards under the glass per game, and also rejected 1.7 shot attempts and snatched 1.5 steals on a nightly basis. He did turn the ball over at a career-high level, however. Boogie still ranked in the top 5 in multiple positive categories and was one of the most valuable players on any team. He just hasn't been able to turn around Sacramento's fortune. Maybe the young talent for the Kings can help DeMarcus turn Sac-Town into a dynasty.
---
All-NBA Third Team
---
Phillip's Picks:
G John Wall - This pick may be surprising, but Wall has carried the Wizards all season long. He is already one of the best guards in the league and can put up over 10 assists any given night.
G Klay Thompson - Being the second splash brother, Klay proved his worth this season. He even set an NBA record for most points in a quarter with 37.
F Jimmy Butler - Butler should be the NBA's 2015 Most Improved Player after covering for the absence Rose. He made his first All-Star game and had his best scoring season.
F Draymond Green - Green made significant strides in his game this season to become an important player for the first-seeded Warriors. Green also had more first-place votes for Defensive Player of the Year than Kawhi Leonard, but ended up losing in the somewhat complicated voting system of NBA awards.
C Marc Gasol - In the beginning of the season, Gasol was a first-team-quality player, but he slowed down towards the season's end. Pau's brother is still a dominant center who was the best player on Memphis.
Elijah's Picks:
G John Wall - Wall carried the Wizards all season long, and he single-handedly makes their offense go. Wall averaged a career high 10 assists per game, and is the reason the Wizards made the playoffs and are looking at a second round appearance.
G Damian Lillard - Video Game Dame is a workhorse, averaging 21 points, 6 assists, and 5 rebounds per game while starting in every game of the season for Rip City. Lillard keeps the Blazers' train chugging, and he continues to improve as one of the best point guards in the NBA.
F Kawhi Leonard - The Claw had a career year, ending the season with his career's highest averages in points, rebounds, and assists. Leonard also led the league in steals with 2.3 per game, hence his amazing amazing nickname. Kawhi missed some games with injury, and it showed how much the Spurs depend on him. When he's on the floor playing at a high level, the reigning champs are almost unstoppable. For his outstanding efforts on D, Kawhi was even named the 2015 NBA Defensive Player of the Year.
F/C LaMarcus Aldridge - Aldridge had himself a really nice season, ranking ninth in PER in the whole league while also ranking seventh in scoring. As he approaches his thirtieth birthday, Aldridge is still one of the best power forwards in the league, averaging a double double nightly and outplaying guys at his position every game.
C Al Horford - There just has to be an Atlanta Hawk on one of these three teams, and Horford had an outstanding season. He is Atlanta's defensive leader, and his health has helped the team massively. When one watches Horford play, one can see how well Atlanta moves the ball with him on the floor, and how important the center is to the team.
Drap's Picks:
G John Wall - J-Wall has certainly been 'doing the John Wall', carrying Washington to a fifth-seeded birth into the East's playoffs. The Wizards swept the fourth-seeded Raptors in round one of the playoffs, and look unstoppable. Wall has performed consistently excellently over both the regular season and postseason. Over the regular 82-game year, Wall averaged double-digits in both points and assists, with 17.6 points and 10.0 assists per game. His 360 layups have also become a DC specialty. Wall, a former Kentucky player, has really turned into a polished NBA floor general who uses his athleticism to gain extra advantages.
G Klay Thompson - Klay has really grown under the mentoring of Steph Curry, really living up to being called the second of the Splash Bros. Thompson has been an electrifying player with lots of 'spurtability'. His 37-point quarter was an NBA record, as he was hitting shot after shot for quite a long period of time against the Kings on January 23. Klay has also emerged as a top-ten NBA scorer; he scored 21.7 points per game alongside 'Chef Curry' for the top-seeded Warriors in 2015. Klay also drilled 239 three-pointers on the year, while shooting at a 43.9 percent clip from beyond the arc. All of Thompson's stats have improved from year to year over his professional career, showing that he is only set up for more success.
F Draymond Green - Green received the most first-place votes for DPOTY, yet didn't receive the award after Kawhi Leonard racked up more points in the voting system (throguh second and third place votes). Draymond was a crucial cog in The City's defensive and offensive gameplan, locking down top opponent scorers and providing eclectic shooting from the stretch 4 slot. Draymond's numbers may not show it, but he is one of the NBA's elite defenders and will emerge into such a force for the Warriors over the next few seasons. He averaged 11.7 points and 8.2 rebounds per game over the season, and also snatched 1.56 steals per game and recorded 1.3 blocked shots per contest.
F/C Pau Gasol - Gasol had a career year at the age of 34. He recorded the league-high in double-doubles, averaging 18.5 points and 11.8 rebounds per night. Pau made up for Chicago's loss of Derrick Rose to injury, and performed far past his expected results. Gasol also blocked 1.9 shots a game and played in 78 of the Bulls' 82 regular season matchups.
C Nikola Vucevic - Vucevic has slid under the radar as a top center in the NBA. While his Magic have been bottom-dwellers of the NBA ever since Dwight Howard left, Nikola has brought new elite center talent to Orlando and provided a spark inside. Vuc' has averaged 19.3 points and 10.9 rebounds per game over the 2015 season, unnoticeably rising in the ranks of the NBA's big men.
---
Who do you think will be named to the 2015 All-NBA teams? Feel free to share your opinions and picks with the staff at VAVEL.