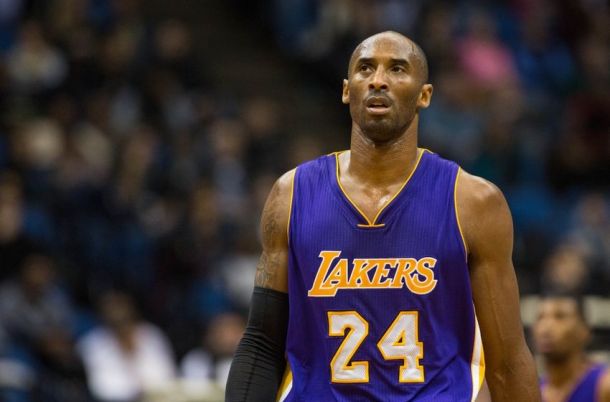 Without question, Kobe Bryant is a first ballot hall of famer and one of the greatest players to ever step foot on the court. The Lakers legend is one of the most unique individuals to ever grace the spotlight of the NBA and when the bright lights are on in Los Angeles, no one rises to the occasion quite like the 'Black Mamba'. Kobe's will to win is completely unparalleled to the point that it becomes difficult to describe. He is just mentally wired differently than most players and all that matters in the world to the legendary Laker is winning.
To any professional athlete that sounds like the perfect player you would want on your team. To experience that passion and drive for greatness, to accept nothing but the best should be infectious to teammates and attract players to want to succeed. However, it may be this same drive that causes more harm than good when it comes to his Laker teammates. Bryant has been accused of selfish play and showing obvious lack of trust in his teammates, and Kobe's tunnel vision mentality is actually preventing the Lakers from attracting quality free agents.
In a recent round of interviews for various ESPN outlets, current Milwaukee Bucks small forward Jared Dudley gave his thoughts on Kobe Bryant. In describing whether Bryant can look to his teammates, the Bucks forward explained:
"When he wants to, the worst thing about it, is he can. Remember, Kobe gets in this thing where he doesn't pass and then he overpasses and he's trying to get triple doubles every night, so we know you have it, it's just not something he wants to do, and that's why I think it'll be a while before the Lakers can get good, because no stars -- I mean, (Kevin) Love -- I'll be surprised if Love wanted to go there."
Kobe hasn't always been known to be the best teammate off the court either, but the fact that this may be the majority opinion of the league when it comes to Bryant's on court attitude, which certainly does not bode well for the Lakers considering the amount of players out of contract next season. In hindsight, Dudley's comments seem to be justified. In looking at the way Bryant had played up until his season-ending injury, we saw two different sides to Kobe's game. For the majority, we saw the 'Mamba' hoisting shot after shot as he has been doing in the past, chasing Michael Jordan for third all-time on the NBA scoring list.
On the flip side, we saw the unselfish side of Kobe, specifically in a magnificent performance in January of this year, although ending in a 109-102 loss to the Cleveland Cavaliers in which the 36-year-old guard dished out a career-high 17 assists as well as adding 19 points on a minute's restriction. As Jared Dudley stated, Kobe can look to his teammates, it's just a matter of whether he wants to on that given night.
When looking back at the last few seasons of the Lakers, their inability to sign big name free agents, or even generate legitimate interest has been alarming. LeBron James, Paul George, Carmelo Anthony and Chris Bosh all passed on the lucrative Los Angeles lifestyle and the chance to play on the same team as Kobe in pursuit of his sixth championship ring. Perhaps players have been put off by the Dwight Howard/Steve Nash experiment which turned out to be a total disaster and Bryant's personality played a big part.
Former Lakers point guard Smush Parker has gone on the record saying he respects Kobe's game but in fact Bryant made his two years in Los Angeles very difficult and that playing with his fellow guard was an 'overrated experience'. Parker has made several public appearances talking candidly over these past few years about what it was like to be around Bryant and his comments have been less than flattering. In a particular interview with Hard 2 Guard Radio in 2012, the former Lakers point man explained:
"What I don't like about him is the man that he is. His personality. How he treats people." Smush would continue, recalling the first time he tried to speak with his teammate, "I tried to talk to him about football and he tells me I can't talk to him. He tells me I need more accolades under my belt before I can come talk to him. He was dead serious. On road trips, he travelled with his security guards. He sat in the back of the plane by himself."
Smush Parker was not the only point guard who had a difficult time playing with Bryant. In 2012, the Lakers were desperately seeking a replacement for fellow Laker great, Derek Fisher. After a trade from Cleveland, Ramon Sessions seemed to be the man to fill Fisher's shoes in LA. However, at the end of the season when Sessions came to free agency discussions, he spurned the Lakers starting spot for a backup position behind Kemba Walker on the Charlotte Bobcats. Sessions remained relatively tight lipped about his departure from Los Angeles but described his time alongside Kobe as 'definitely different.'
It seems that there certainly is something to Jared Dudley's insight on Kobe when looking at past free agent success as well as testimony from former teammates. Seemingly while Bryant has been in a Lakers uniform, it feels as though Los Angeles is never the number one option, with players looking to ply their craft elsewhere. Kobe has clashed with almost every star player he has played with, from Karl Malone to Shaquille O'Neal to the most recent Dwight Howard.
In more recent times, Pau Gasol split for Chicago and has rejuvenated his career after seemingly all the Lakers shortcomings were blamed solely on him. Dwight Howard left $30 million dollars in salary on the table and hit the road for Houston when again, the shortcomings of the Lakers were focused again on his shoulders. If the Lakers are unable to land a free agent this coming off season, it certainly could be for the reasons Jared Dudley has given. If reputation and history is anything to go by, as long as Kobe is around it may be difficult for the Lakers to find the success they once had.