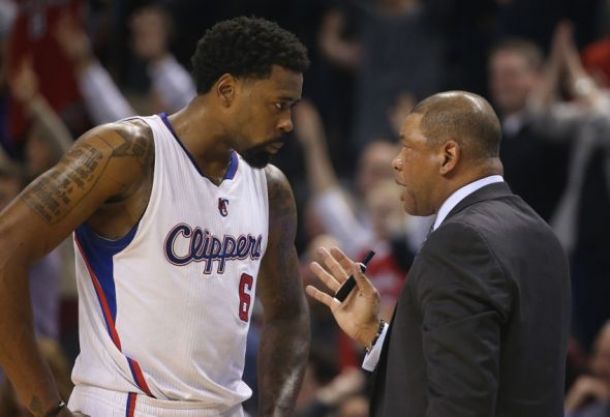 Let's be real, soon-to-be free agents LeBron James, Kawhi Leonard, and Jimmy Butler are not leaving their respective squads. If Tim Duncan decides to play one more season, he is not donning any other jersey besides a Spurs one. Which game-changing players should teams have hopes of snagging this summer?
5) Brook Lopez, C, Brooklyn Nets, *Player Option
2014-15 Season Averages: 17 ppg 7.4 rpg 1.8 bpg 51.3% FG
Brook Lopez has a 16.7 million dollar player option that he plans on declining in order to become an unrestricted free agent and sign a long-term deal with more security. The Brooklyn Nets tried to trade Deron Williams at the trade deadline this past season. They are also currently shopping Joe Johnson, Jarrett Jack, and Mason Plumlee in order to get under the luxury tax line, according to NBC Sports. They also had a deal in place to ship Brook Lopez away to Oklahoma City in February, but that fell apart. Why would the Nets not retain one of the very few bright spots that were presented to them this season? They might have decided it is time to hit the restart button in Brooklyn.
4) Greg Monroe, PF, Detroit Pistons, Unrestricted
2014-15 Season Averages: 16 ppg 10.2 rpg 0.5 bpg 49.6% FG
Last summer, as a restricted free agent, Greg Monroe decided not to accept any offer from the Detroit Pistons and instead signed the one-year qualifying offer which makes him an unrestricted free agent next month. Rumors have been swirling that Detroit hopes to replace the talented big man through the draft with the eighth pick. There will be no shortage of potential suitors for the 24 year-old big man, and the Pistons seem to have increasing belief that he has one foot out that door. The writing has been on the wall for this duo to split, and the time has come.
3) Kevin Love, PF, Cleveland Cavaliers, *Player Option
2014-15 Season Averages: 16.4 ppg 9.7 rpg 0.5 bpg 43% FG
Who would have thought we'd be talking Kevin Love leaving Cleveland less than a year after they traded two consecutive number one overall picks for him. Love's point and rebound numbers have not been this low since his second season in the league. He saw his usage decrease, and took only 12 shots per game compared to almost 19 last season. Who's to forget the non-stop rumors of he and LeBron's relationship over the course of the season. Recently, LeBron James had some words about a player who plays the same position as Kevin Love and is also an impending free agent,
"Tristan should probably be a Cavalier for his whole career, There's no reason why he shouldn't. This guy is 24 years old, he's played in 340-plus straight games, and he's gotten better every single season. It's almost like 'What more can you ask out of a guy?'"
Sure, if Cleveland beats Golden State in the NBA finals and Kevin Love has that ring around his finger, everything might change, but for now it looks like the All-Star power forward is headed elsewhere.
2) DeAndre Jordan, C, Los Angeles Clippers, Unrestricted
2014-15 Season Averages: 11.5 ppg 15 rpg 2.2 bpg 71% FG
He is 26 years old. He led the league in rebounding. He shot 71 percent from the field (No, that is not a typo). He made All-NBA Defensive First Team. He put up monster numbers when Blake Griffin was out for an extended amount of time due to injury. This young man is going to get paid. Whether it be by the Clippers is a different story. After getting knocked out by Houston in round two of the NBA Playoffs, rumors came out that DeAndre Jordan and Chris Paul had a falling out throughout the season. A rumor that was shot down by Clippers' head coach Doc Rivers. Nonetheless, it was still interesting news. There is also the factor that has people wondering if Jordan wants to be a third-option anymore. It will be tough to convince a man who put up such numbers to stay playing behind the lime light of Chris Paul and Blake Griffin during the prime years of his career.
1) LaMarcus Aldridge, PF, Portland Trail Blazers, Unrestricted
2014-15 Season Averages: 23.4 ppg 10.2 rpg 1 bpg 46.6% FG
Shocking? A little bit. It was not too long ago that LaMarcus Aldridge said he wanted to finish his career in Portland. He has played all nine of his years in the NBA with this franchise and people all over thought he was a lock to re-sign in Portland this summer. Then, rumors came out after the regular season that LaMarcus Aldridge is "...a lot more in play than people think." Apparently, the Blazers are set to make Damian Lillard the face of the franchise and Aldridge isn't too happy about that.
Per Jason Quick of The Oregonian: "Some Blazers players have already said they are worried free agency will take Aldridge away from Portland this summer. Earlier this month, before a home game, a Blazers player estimated the chances of him returning to Portland at 50-50."
If LA leaves Portland, he will also be leaving 28 million dollars on the table as they can offer him more money than any other team in the league. If time has come for Aldridge to represent another franchise, that city will be very thankful for the All-NBA big man.
Which big-name free agent would you like to see your team snatch up this summer? Leave a comment below, or respond on Twitter!