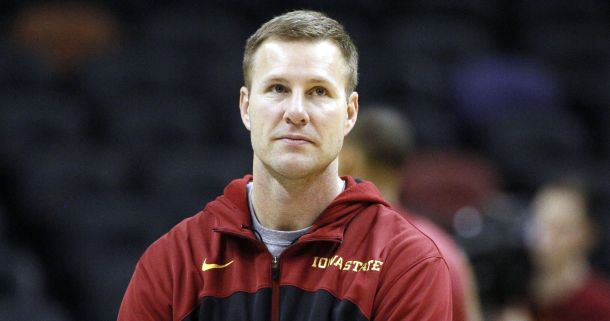 Iowa State men's basketball head coach Fred Hoiberg is reportedly going to be the next head coach of the Chicago Bulls, according to the Chicago Tribune. Hoiberg has had a stint in the NBA playing from 1991-2005, including time with the Bulls from 1999-2003. In 2010, his alma mater, the Iowa State Cyclones, hired him to become their men's basketball coach after Greg McDermott left to coach Creighton where his son Doug played. Hoiberg would replace Tom Thibodeau as head coach after the latter was fired yesterday after a five-year stint with the team, making the playoffs in each of those seasons.
In his first season, he went 16-16 then the program would experience it's best run of seasons in school history. In the last four seasons, he led the Cyclones to four straight bids into the NCAA Tournament highlighted by a Sweet 16 appearance last year. Also in the last two years, Iowa State has been Big XII Conference Tournament Champions. He holds the highest win percentage in school history with a .676 win percentage going 115-55 in five seasons. Last year, Iowa State gave Hoiberg a $600,000 dollar raise in order to keep him in Ames "for life" just a year after he signed a 10-year deal worth $20 million.
The buyout clause in his contract was only $500,000 should he jump to the NBA and would have been $2,000,000 if he were to get hired by another NCAA team. The Bulls expect Hoiberg to accept the job and to be introduced on Thursday to allow Iowa State to begin their search for a replacement as they put their recruiting on hold. However, he will not be formally introduced for a few weeks for family schooling considerations. Iowa State AD Jamie Pollard has already begun his search for potential coaching candidates as they anticipate to lose Hoiberg. Pollard told a group of fans that Hoiberg's lifelong goal was to coach in the NBA.