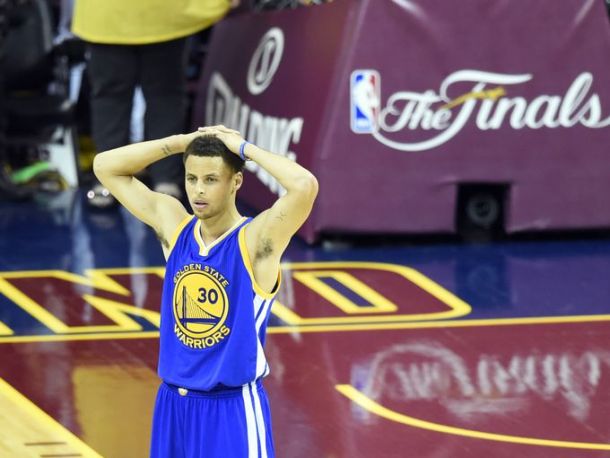 It was a tale of two halves for Stephen Curry. The first half was filled with frustration as he was dogged by Matthew Dellavedova on every play and found no space to shoot the ball, frustrating the MVP. In fact, it wasn't just Curry going cold in the first half. The whole Warriors team went cold in the 1st half. Draymond Green has failed to get going in this series and now the pressure is now on the Splash Brothers to produce and both had bad first halfs. When that happens, disaster strikes for the Warriors. But in the second half, Curry rebounded and as the game went on, the screens were starting to take a toll on Dellavedova and as he loosened up, Curry started to find more space and hit his shot. He hit six of his nine shots in the 4th quarter and almost led the Warriors to a Game 3 win. He was the Steph Curry of old, hitting those crazy three's that make us go "how did he make that?". He was find his teammates and also finding his shot. Right now Curry has the momentum after a strong second half to come out and show why he was selected MVP of the league.
Another big factor to Curry's second half revival was inserting David Lee in the lineup. Forcing Lee on the floor means that in pick and roll situations, you can't double Curry cause Lee is a solid offensive threat on the floor. He's better offensively than Andrew Bogut and with Draymond Green struggling, David Lee may be the best offensive big man on the Warriors at the moment. Putting Lee causes problems for the Warriors and gives Curry more 1 on 1 opportunities. Expect Steve Kerr and the coaching staff to give Lee more minutes in Game 4.
The state of the Golden State Warriors lie on Stephen Curry. He is the face of the team and he goes as far as he will take them. Playing David Lee will certainly be a big factor and you have to go on the assumption that Curry is going through a cold streak and when he heats up, we will all remember why he might be the best shooter in NBA history and the MVP of the league.