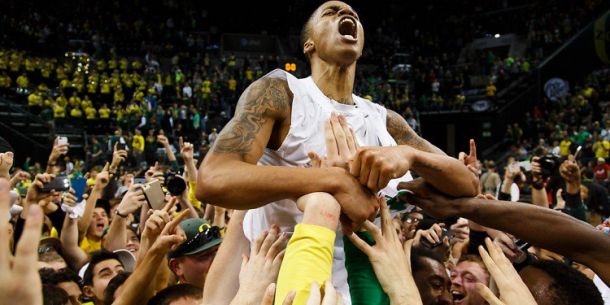 The Indiana Pacers have selected Oregon star Joseph Young with the 43rd overall selection. This is a steal of a pick that could turn into one of the best picks of the draft. At Oregon, Young was named an AP All-American honorable mention. He has a very good chance to make the Pacers roster despite a second round selection.
Young is a 6'2"-185 guard that can flat out score with the best of them. He played 132 games and averaged 17.5 PPG, 3.6 RPG, and 2.7 APG in his career with the Ducks. He was named the Pac-12 Player of the Year despite his team not being that successful. Young's best season came last year when he scored 20.7 PPG, 4.4 TRB, and 3.8 AST. It's worth noting also that Young shot 92% from the free throw line and 44% from the field overall. His scoring ability will help him stick in the league and to crack the Pacers rotation.
Indiana got their big man in Myles Turner in the 1st round and then got a back-up quality guard, in Joseph Young with their 2nd round selection. Young will already be one of the better shooters on the team and can learn from a veteran guard in George Hill. He will need to be a more willing passer than he is used to be but Hill would be perfect to learn from in that department.
The Pacers had an overall solid draft with their two picks. Joseph Young has first round talent but stayed a bit too long in school and his defensive abilities are questionable. All NBA rookies have question marks coming in but that's expected. As long as Young can be a reliable deep threat for the Pacers, he should have no problem making the roster and a name for himself in the NBA.