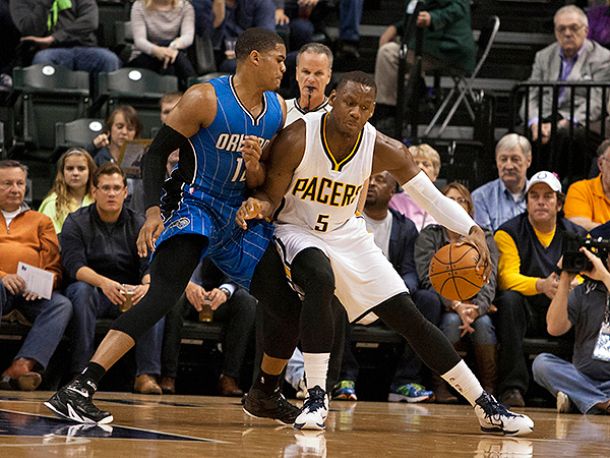 INDIANAPOLIS -- The Indiana Pacers and Lavoy Allen have officially agreed to a three-year, $12 million deal, according to Marc J. Spears of Yahoo Sports. The three-year deal includes a final year team option.
After losing David West and Luis Scola to free agency, it became a big priority for the Pacers to re-sign Lavoy Allen. As it currently stands, Lavoy Allen is projected to be the starting power forward for the Pacers. Larry Bird and the Pacers feel very good about Lavoy Allen, so it is not surprising to see Allen re-signing with the team.
Allen was originally acquired by the Pacers in the trade two-years ago, involving the Philadelphia 76ers. Indiana received Evan Turner and Lavoy Allen, Philadelphia received Danny Granger. Lavoy Allen is the only player that worked out for either team in this trade.
Lavoy Allen had a great opportunity to display his skills last season due to the plethora of injuries that the Pacers had. Allen proved that he has potential to be a quality starting power forward in this league. His rebounding, touch by the basket, mid-range game, constant effort, and overall defensive ability proved to be valuable for Indiana.
Whether the Pacers are content with Allen as their starting power forward or not, he will receive a significant amount of minutes next season. If the Pacers do decide to either start Paul George at power forward, or to acquire a starting power forward, Lavoy Allen will at least be the second string power forward. He may be better suited for that role right now anyway.
If Paul George were to start at power forward, Indiana now has the luxury of using Lavoy Allen to shift to a more traditional lineup in certain situations. Depending on matchups and situations, Indiana could utilize Lavoy Allen's skill set against traditional teams, then use him in smaller spurts against smaller/faster teams.
Nobody has seen how Paul George can defend the elite power forwards of this league, so expecting him to start there all the time is unreasonable. If George shows that he can excel at power forward on both sides of the court, Indiana will have a traditional backup to use. Versatility is a tremendous luxury to have, and it appears Indiana has exactly that at power forward.
Another option, Lavoy Allen could be the typical starter, but then Paul George slides over to power forward in certain situations. Of course nothing is for sure yet, but the Pacers are surely not going to neglect the matchup nightmare that would occur with George at power forward, and the team will also not neglect Allen's skill set either.
Indiana is basically 'locked' into their current situation at power forward, in terms of acquiring a starting quality player. That is of course until they trade Roy Hibbert, but only if they manage to get it done. Indiana has virtually no cap space left, but they do have cap exceptions like MLE and BAE remaining, but that will be used for other needs, most likely.
It appears that Indiana's best bet at acquiring a starting power forward would be to trade for David Lee. He has been made more than available by the Warriors. If Indiana could engage in a three-team deal then it would be possible. Golden State simply wants to dump Lee for cap reasons, so a third team would have to be interested in only acquiring Hibbert and then trading a tiny contract to the Warriors. A team that missed out on a free agent big man and that remains with a hole at center would be the most likely candidate.
Indiana doesn't have a lot of options to address the power forward position, but they do have a few good ones. Lavoy Allen wouldn't be a bad option for the starting lineup, his skills compliment the other projected starters very nicely. However, acquiring David Lee and starting him over Lavoy Allen would be ideal for next season. Allen could develop behind Lee for a season and then take over the starting role permanently for years to come.
Many fans are wanting a trade that would simply dump Roy Hibbert's salary. That may sound attractive, but what is the point of having a lot of cap space when there are no players of quality to sign? All of the good options for the power forward position are gone, since David Lee is the only reasonable and fitting trade target. He becomes the best option for Indiana.
It is not only for the basketball side of things, acquiring David Lee would give the Pacers the same salary cap advantages as having Roy Hibbert. The difference is that David Lee would actually be able to contribute. Indiana would get over $15.4 million in created cap space after this season if they were to acquire David Lee. That is a lot of money to spend in a loaded free agency class.
Acquiring David Lee would allow for the Pacers to keep Paul George at small forward, where he is best both offensively and defensively. It would also allow the Pacers to utilize George in small-ball lineups and not rely on him to play heavy power forward minutes. Lavoy Allen would benefit since he would be able to come off the bench and play valuable minutes in situations that he would thrive in. It would be beneficial for all three players involved.
Regardless of what happens in the near future, and the Pacers are surely glad to have Lavoy Allen back with the team.