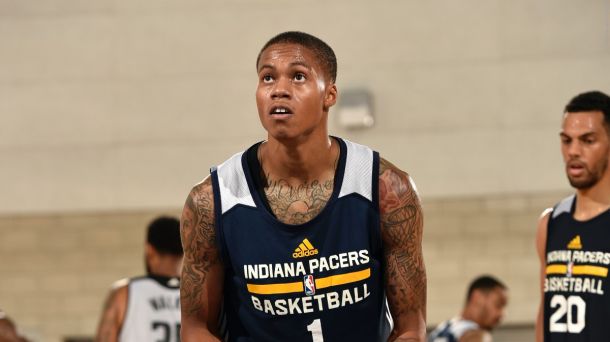 During the 2013-14 NBA season, the Indiana Pacers (along with the entire state of Indiana) not only hoped, but believed they had the making to contend for an NBA Championship - and few would oppose. The Pacers record entering the All-Star break was a whopping 40 - 12, earning them the best record in the Eastern Conference and only 1.5 games behind league leading Oklahoma City (43 – 12). Needless to say, the Pacers were looking good and their future was bright. However, Larry Bird, President of Basketball Operations, felt otherwise. Bird surprised everybody by trading former All-Star and fan favorite, Danny Granger, to Philadelphia for the likes of Evan Turner and Lavoy Allen in hopes to boost bench play while making a run at an NBA title. Not only were fans puzzled by a move that shipped away a player who had carried this team on his back for years, it also left them asking "Why now?" What flaws does Larry Bird see in a 40 – 12 record and the #1 seed in the Eastern conference?
Well, the Pacers finished out the season 16 – 14, finishing with an overall record of 56 – 26. Yes, this record was still good enough to maintain the #1 seed in the Eastern Conference, guaranteeing home court advantage throughout the Eastern Conference Playoffs, but clearly this was not the same team as before. A title contending team finishing the last 30 games of the season at just over .500 is not a good sign for a team that began the season at .769. So what was the issue? Surely it wasn't the talent. The team still had one of the best starting 5's in all of basketball. It wasn't the coaching. If there's one thing we know about Frank Vogel, it's that the guy can coach. Could it possibly have been the chemistry?
After the Granger trade, multiple reports surfaced regarding locker room issues surrounding the Indiana Pacers. Newly acquired Evan Turner and starting SG Lance Stephenson, reportedly, were involved in a scuffle where Turner had to be "dragged out of practice." Unfortunately, the trouble didn't stop there. Marc Stein reported, "Stephenson and guard George Hill had to be separated on the bench during a 26-point home loss to San Antonio on March 31." Obviously there is frustration and embarrassment when any team takes a 20+ point loss at home, however, the frustration and embarrassment had just begun for this team. Roy Hibbert decided to chime in to make it known that the recent All-Star was not happy. Hibbert was quoted saying: "Some selfish dudes in here," which leads one to believe that not only are there chemistry issues within the locker-room, but that Hibbert expected more touches on the ball. But before the team could work things out together and get back on the same page, Bird's other questionable move of signing Andrew Bynum had its complications as well. Rumors traveled that Bynum had a negative effect on Hibbert's psyche, which one cannot deny as a possibility considering his poor performance and lack of confidence during the remainder of the season. Sadly, this appeared to be the beginning of the end for Roy Hibbert. It was clear that there was an issue in the Indiana Pacers locker-room, an issue that didn't seem fixable and an issue that would eventually cost the Indiana Pacers a chance to play for an NBA Championship.
It is to no surprise that an unstable team simply cannot make it to the NBA Finals. Especially not when you have players like LeBron James, Dwayne Wade, and Chris Bosh vying for another championship in Miami. The Miami Heat ended the Pacers hopes of competing for an NBA title, once again, in the Eastern Conference Finals.
It's unfortunate. Many believe the Indiana Pacers had the talent to contend for a title in 2013-14. But it was clear in the end that they simply did not have the chemistry to do so. Let's take a look at the Golden State Warriors – 2014-15 NBA champions. Yes, they had one of the most talented rosters in the league, but also had one of the strongest teams off the court. Videos can be found of the Warriors singing and dancing together to O.T. Genesis' 'Coco' (popular rap song) on a plane. Not only did this team try and include one another, but they were often seen eating dinner together on road games, anything they can do to strengthen the band of brothers. Associate head coach Alvin Gentry said, "I find it to be very rare." when speaking about the togetherness of the Golden State Warriors. A rarity that won the Golden State Warriors their first NBA Championship in 40 years. It's this same rarity that the Indiana Pacers must have if they plan to compete for their first NBA Championship in the near future.
Things are, however, looking up for the Indiana Pacers. Not only are Evan Turner, Lance Stephenson, Roy Hibbert and Andrew Bynum playing elsewhere, but the new team now has a hobby of its own, fishing. Yes, fishing in Indiana. It has been known for some time now that Paul George really enjoys fishing when not playing on the hardwood. He even won his first fishing tournament earlier this year in May on Geist Reservoir. With the addition of guard Monta Ellis, George may have a new fishing buddy. When asked a year ago what he enjoys doing in his free time, Ellis responded, "With the time that I have in the offseason, I'm going to fish at least four or five times a week. That's what I love doing. That's my second love besides basketball…" However, Ellis isn't the only new addition who enjoys the sport. Jordan Hill grew up in the rural areas of South Carolina and also reportedly enjoys fishing. Joseph Young, who also enjoys some fun competition, has recently been trash talking Paul George and his fishing skills over Twitter.
Step ur fish game up @Yg_Trece aka Big cuz.
The Pacers are a new team. With the luxury of being young, they have an opportunity to grow together and develop team chemistry. Yet, chemistry is not always an easy task at hand when playing in the NBA. There are sacrifices that need to be made and chances taken to be successful. It took several years for the Warriors to develop the chemistry and bond they have today. The Pacers better get fishin'.