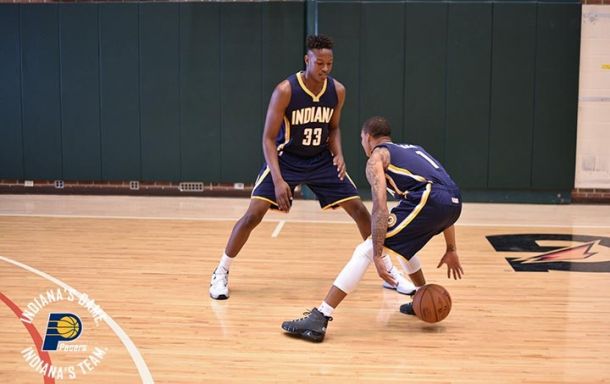 INDIANAPOLIS, IN -- Indiana Pacers head coach Frank Vogel has utilized the team's 2015-2016 training camp to teach their brand new offense. In recent history, the Pacers have used their camps to improve and focus on their defensive system.
Frank Vogel spoke about the team's offensive focus in training camp (via Pacers.com):
"We got a whole new offensive system. So it's part about the running game, part about the spacing game in the halfcourt. How we're going to space is new to everybody. We wanted to start there."
In recent years, Indiana's offensive work has mainly been in the halfcourt during training camp. This year the Pacers have used significantly more fast paced and full court drills to prepare themselves for the new offensive style. The Pacers' goal is to be one of the best conditioned teams in the league, and one of the best fast break teams too.
Indiana's halfcourt is entirely different since they are using a 4-out, 1-in scheme instead of a 3-out, 2-in scheme. The Pacers are learning how to do the small things at full effectiveness, such as pick-and-roll, isolation, off-ball movement, off-ball screens, and much more. Indiana was tired of running into spacing problems, so using a 4-out, 1-in scheme with their personnel makes a ton of sense.
This doesn't mean that the Pacers have neglected to teach their defensive system. They have used the second practice of their two-a-days to work on their defense. Indiana feels that the team has been executing and understanding their defense at a high level, which has allowed for them to practice their new offensive scheme more.
The Pacers feel that their defense will be even better than last season. It might not be believable since they lost David West and Roy Hibbert, but they believe it. Indiana spoke earlier this off-season about their past frontcourt's inability to defend in space and against the pick and roll. These areas of weakness will be areas of strength now.
The only concern is defending the post with Paul George. But the team plans on using their significantly increased speed to trap the post, as this is an attempt to not only help George out, but to create turnovers. George has added muscle and can hold his own, but sending traps will effectively pressure the post into making bad decisions and wasting valuable time from the shot clock.
Indiana's new offensive scheme hasn't been fully visible to the media or the public yet. But the team did run a base 4-out, 1-in offensive scheme in a video that the team's official Twitter account posted. Indiana wants to run this scheme so they can utilize their ball handling play makers on the perimeter like Paul George, Monta Ellis, George Hill, Rodney Stuckey, Joseph Young, and C.J. Miles.
Myles Turner (University of Texas), Joseph Young (Oregon University), and Rakeem Christmas (Syracuse University) will get action in their first ever NBA game on Saturday. Monta Ellis (Dallas Mavericks – via free agency), Chase Budinger (Minnesota Timberwolves – via trade), Jordan Hill (Los Angeles Lakers – via free agency), and Glenn Robinson III (Philadelphia 76ers – via free agency) will be playing their first game with the Pacers too.
The public's first chance to see this new-look Pacers team is on Saturday. Indiana's 2015-2016 preseason debut is on October 3 at 7:00 P.M. (ET) against the New Orleans Pelicans. This will be a great test for Paul George as his first ever minutes at power forward will be against superstar Anthony Davis.