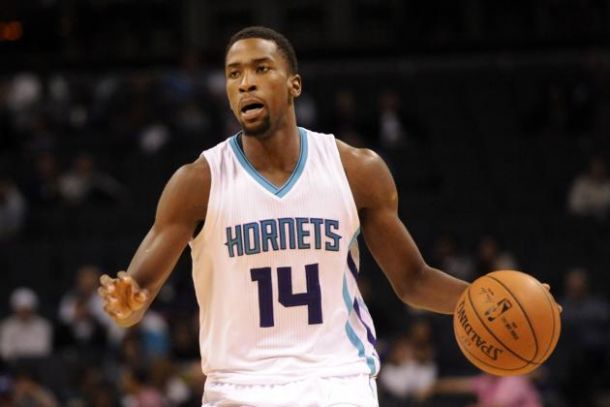 Charlotte Hornets forward Michael Kidd-Gilchrist is expected to miss six months after he undergoes shoulder surgery, according to Adrian Wojnarowski of Yahoo Sports.
Initial reports suggested that Kidd-Gilchrist may only miss several weeks, but an MRI on Monday revealed that the 22-year old will need surgery and will be sidelined for six months.
Kidd-Gilchrist suffered the injury late in the second quarter of the team's first preseason game against the Orlando Magic. The former second overall pick slipped on a wet spot and fell hard on his shoulder. He left the game after playing merely 13 minutes and did not return.
This is an unfortunate blow for Charlotte, as they will have to play the season without one of their key defensive pieces. In his absence, newly acquired Nicolas Batum will most likely play heavy minutes, and reserve forward Marvin Williams should also earn a larger role.
During the summer, Kidd-Gilchrist signed a contract extension worth $52 million for four years. It's obvious the Hornets want the three-year man to be a part of their future, but this injury is a major setback.
Last season, Kidd-Gilchrist averaged career-highs of 10.9 points and 7.6 rebounds per contest. Although he has been gradually improving his offensive game, the wingman may still need to polish his jump shot to develop a consist outside shot and further expand his range.
Throughout his career, he is a 16.7 percent three-point shooter, having shot just a total of 18 three-pointers. Last year, MKG did not even attempt a three-pointer, but the Philadelphia native is a major cog on defense, which is why Coach Steve Clifford and the organization favor him so much.
A timetable of six months will keep Kidd-Gilchrist out until early April, forcing him to perhaps miss the entire season, unless the team is able to notch a playoff spot in which we could possibly see MKG ready for the postseason.