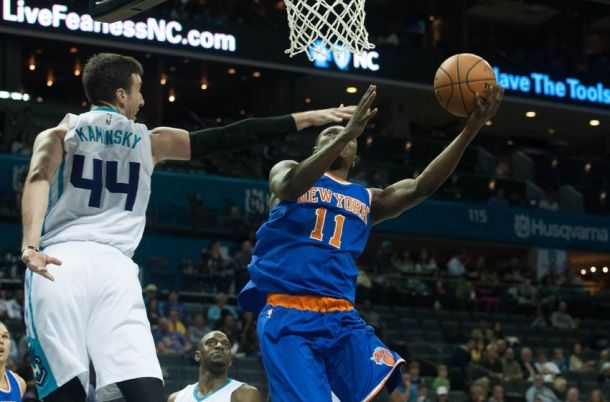 Both teams came in winners of their previous matchups prior to the game. New York defended their home court last night as they defeated the Boston Celtics. The Hornets blew out the Los Angeles Clippers by 42 in China. In addition, both teams had yet to take a preseason loss. Several key players for the Knicks, such as Carmelo Anthony, Robin Lopez, and Jose Calderon sat this game out due to rest. For Charlotte, former Knicks Jeremy Lin did not suit up due to illness.
New York got off to a sluggish start as they were shooting it at 33 percent while their opponent was at 44 percent. After the first period, Charlotte was leading by six points. The Knicks boosted up their field goal percentage by halftime as they were at 48 percent. They were also able to do a good job with moving the ball as they piled up 14 assists and picked up five steals. Cleanthony Early, who came off the bench, was leading the Knicks after two quarters with 11 points while Langston Galloway put up 10 points. Hornets stars Kemba Walker and Al Jefferson played only during the first 24 minutes. Walker concluded with 10 points while Jefferson had 10 as he did most of his damage during the second quarter.
The Knicks seized control of the game during the third stanza, as they outscored Charlotte 25-19 and went up by four points. For the final 12 minutes of regulation, the game remained fairly close, but it was the Hornets who took the quarter, outscoring New York 28-20.
During the 7:38 mark of the fourth frame, Tyler Hansbrough took a slap to the face unintentionally which caused him to have a nose bleed. He was forced to come out of the game but did return shortly after he got cleaned up.
Charlotte was up by three points with 16.6 seconds left in the game while the Knicks had one last shot to tie up the game or take a quick two. DaJuan Summers attempted a shot from downtown, but it did go down. New York then committed an intentional foul on Elliott Williams, leading him to take two free-throw attempts. Although he ended up converting on just one, that would turn out to be enough to keep the Hornets undefeated during the preseason.
Early led all scorers with 17 points. Galloway ended with 15 points and six assists. Frank Kaminsky, who was the Hornets' ninth overall pick, had a good night, finishing with 11 points, eight boards and three assists. A strong offensive spot for Charlotte was their free-throw shooting, as they attempted 24 shots and converted on 68 percent of them.

New York has one preseason game remaining which will be on Thursday, October 22nd, at 7:30 P.M. EST against the Boston Celtics. For the Hornets, they have three more games remaining, as they will host the Chicago Bulls on Monday October 19th at 7:30 PM. EST.