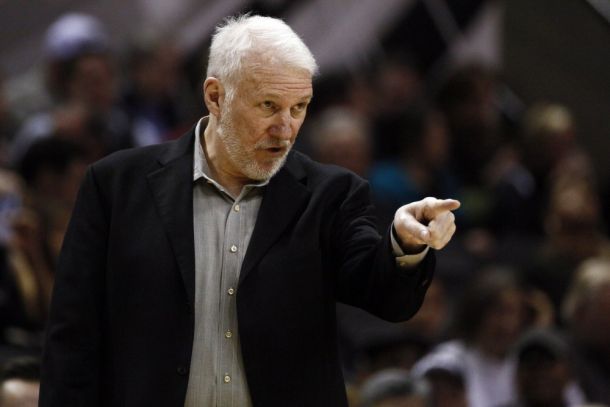 San Antonio Spurs head coach Gregg Popovich will replace current Team USA coach Mike Krzyzewski in 2017, multiple sources have confirmed.
Coach Krzyzewski will be succeeded by Popovich after the 2016 Rio de Janeiro Olympics.
Popovich, 66, will take over from 2017 to 2020, as he will be the coach for the 2020 Olympics in Tokyo, including the 2019 FIBA World Cup in China as well.
An honor that is well-deserved, Popovich has been the mastermind behind San Antonio's five championships. Head coach of 19 years, Popovich also has three NBA Coach of the Year awards under his belt and was the coach of the Western Conference All-Stars three times.
Krzyzewski, meanwhile, has been very successful as Team USA's head coach, winning two gold medals during the Olympics in 2008 and 2012, two gold medals during the FIBA World Championship, and a gold medal during the FIBA Americas Championship.
He has also succeeded in college as the head coach of the Duke Blue Devils, notching five NCAA Divisional Championships, 12 NCAA Regional Championships, 13 ACC Tournament championships, and 12 ACC regular season championships.
"Gregg Popovich is the ideal choice to take over as head coach of USA program," coach Krzyzewski said (via Yahoo). "His long track record of success – both in terms of winning championships and creating a culture of excellence – are well documented and, rightfully so, he is considered among the very best coaches In the world. Because of his military background in which he selflessly served his country, coupled with his unique ability to bring out the best in his teams, this leadership appointment makes perfect sense."
With Popovich taking over head coaching duties, Krzyzewski will become a special adviser for the National team alongside Jerry Colangelo.
"I'm extremely humbled and honored to have the opportunity to represent our country as the coach of the USA National Team," Popovich said (via Yahoo). "What the program has accomplished over the last decade under the leadership of Jerry Colangelo and Mike Krzyzewski is truly impressive. I will do my utmost to maintain high standards of success, class and character established by Jerry, Coach K and the many players who have sacrificed their time on behalf of USA Basketball."