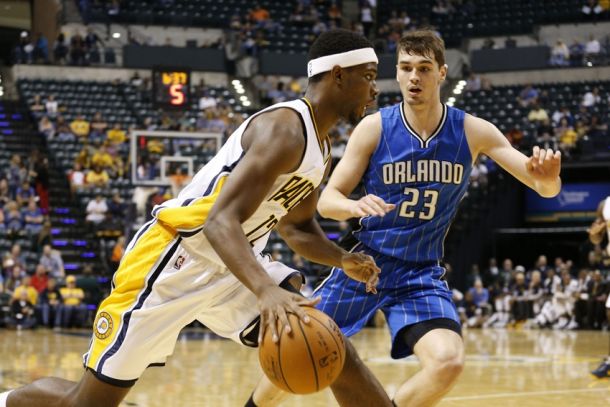 INDIANAPOLIS, IN -- The Indiana Pacers have officially waived C.J. Fair and Kadeem Jack. Their roster is now down to 16 players, but they still have to cut one more player prior to the deadline on Monday. All signs currently point to guard Toney Douglas being that unfortunate player, but apparently the organization must still be contemplating the decision if they didn't announce it with the other roster cuts.
These roster cuts are not surprising at all. Both of these players (C.J. Fair and Kadeem Jack) had the expectation of being on the Pacers just for training camp. Both players were expected to be waived by the Pacers, but then extended by the Fort Wayne Mad Ants (Pacers' D-League affiliate). Both players are expected to be crucial pieces for the Mad Ants next season.
Indiana is running a new style of offense this season and both Fair and Jack would fit if they were given the chance to make the final roster. The goal is for these players to develop on the team's D-League affiliate, then perhaps be signed by the Pacers in the future. That is of course if they develop into players that the organization would view as potentially contributing pieces.
C.J. Fair is currently 24-years-old. Fair played four seasons of collegiate basketball at Syracuse University. Last year, Fair was signed to the Pacers' summer league team as an undrafted free agent. The 6'8" forward also participated in the team's training camp, but he was the final cut when the roster would become finalized. Fair was later signed by the Fort Wayne Mad Ants, where he played his first professional season.
C.J. Fair's 2014-15 statistics with the Fort Wayne Mad Ants:
50 GP, 27.6 MIN, 48.2 FG%, 27.4 3P%, 75.0 FT%, 5.7 REB, 0.8 AST, 1.1 STL, 0.7 BLK, 1.7 TO, 13.9 PTS
The Pacers organization really wants C.J. Fair to improve his perimeter shooting consistency. They would like to develop him into a "3-and-D" player eventually. With Chase Budinger on an expiring contract and Solomon Hill having a team option on his contract, next season could be his year to finally make the Pacers' final roster. He could end up being the third string small forward if Budinger and Hill don't return, behind C.J. Miles and Glenn Robinson III
Frank Vogel on the development of C.J. Fair (via Indianapolis Star):
"I just think he's more mature and makes less mistakes. (Fair) was more effective in driving the basketball, but I really want him to try to get to that 40 percent (in three-point shooting), but he's definitely improved."
C.J. Fair on his NBA journey so far (via Indianapolis Star):
"Coming here was an opportunity. My goal is to be in the NBA. If it happens with this team, that would be great. If not, then I think I'll just weigh my options and see if any other teams are interested. If all things fail, I can go back to Fort Wayne."
Kadeem Jack is currently 22-years-old. Jack was signed this year by the Indiana Pacers as an undrafted free agent. Kadeem played all four years of his collegiate career at Rutgers University. Jack played on the Indiana Pacers' summer league this past summer, and spent training camp with the team as well. He was released by the Pacers today, but he is expected to be signed by the Mad Ants.
Kadeem Jack's 2014-15 statistics with Rutgers University:
30 GP, 31.0 MIN, 42.7 FG%, 31.3 3PT%, 57.9 FT%, 6.4 REB, 1.1 AST, 0.9 STL, 0.7 BLK, 2.6 TO, 13.0 PTS.
Both players were signed by the Indiana Pacers for training camp with the expectation that they would end up on the Fort Wayne Mad Ants. Expect both players to sign with the Mad Ants in the upcoming days. Fair and Jack are expected to be key pieces for the Mad Ants in the 2015-16 season.