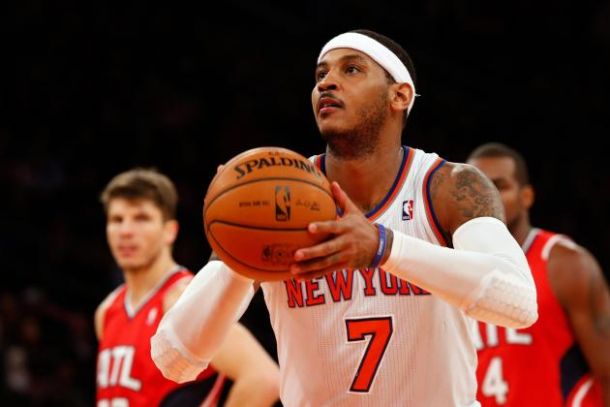 With one win under their belt, Carmelo Anthony and the New York Knicks look to make it a 2-0 start with the home opener Thursday night at Madison Square Garden. The Knicks and their fans are looking to rebound from the abysmal 17-65 record of last season.
In this game and going forward, the Knicks will once again need a great deal from their franchise player, Carmelo Anthony. He struggled shooting in game one but is a prolific scorer. Melo upped his defensive play in the pre-season and in game one, he has said that he wants the coaches to hold him more accountable for his efforts in this area.
"Call it out in the film session so everybody can see that and hear that, Anthony said. "By them doing that, it kind of forces me to be at the top level of my game on both ends of the court. I think it brings the best out of me and if you bring the best out of me, I think it will bring the best out of everyone on the team."
For a player that has been often criticized for his lack of defense, this is a bold statement and a plan that can benefit the team immensely.
Outside of Melo, there are two key elements to this game. First is the point guard play. For the Knicks, veteran point guard Jose Calderon must look to be more aggressive on the offensive end and in getting his teammates involved. Defensively, Calderon struggles, and this is where we might see rookie Jerian Grant get some solid minutes.
Grant was acquired through the NBA draft via a trade with the Atlanta Hawks. Tim Hardaway Jr. was swapped for Grant. We'll see the former Knick tonight. It will be interesting to see how Derek Fisher utilizes both of these players.
Meanwhile, Jeff Teague and the Hawks are coming off a great season and expectations remain high for them.
The second key element for the Knicks lies in the play of the big men. The Hawks have some excellent players at the center and power forward positions in Al Horford and Paul Millsap. These two have the ability to play in the post as well as more of a mid-range game. They also have Tiago Splitter off the bench. The Knicks are deeper in this area than they have been in past years with Robin Lopez at center and rookie power forward Kristaps Porzingis. Lopez is a solid rim protector and rebounder who can contribute offensively as well. Porzingis has tremendous upside offensively but needs to improve defensively.
Against the Hawks, Porzingis will need to rise to the occasion. Off the bench, the Knicks have Queens native and free agent acquisition Kyle O'Quinn. Opening night against the Milwaukee Bucks, O'Quinn grabbed 11 rebounds and played well defensively.
Phil Jackson and the Knicks front office have assembled a solid team for this year. Carmelo Anthony is healthy and has more help than in the last few seasons. They are younger and have more depth as well. If all goes according to plan, the Knicks should have a successful home opener and 2015/2016 season.