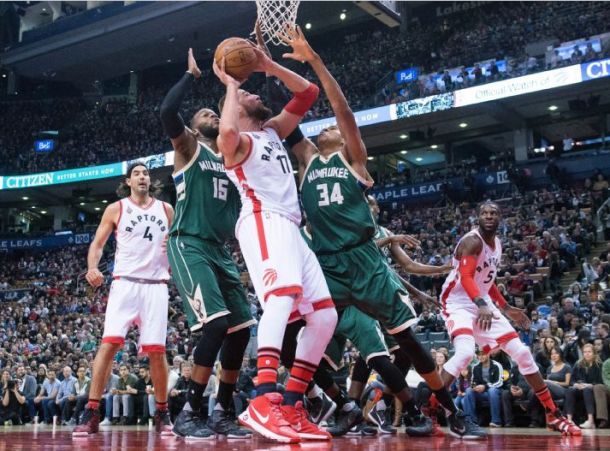 The 0-2 Milwaukee Bucks came into the Air Canada Center Sunday night in the hope of finally putting a notch up in the wins column against the 2-0 Toronto Raptors. Injuries had been a major factor in the Bucks' lackluster start to the season and the absences of John Henson, Jabari Parker, and OJ Mayo were certainly made evident as Toronto quickly took hold of the game and kept their foot on the gas all throughout the night as they took the game 106-87.
Raptors head coach Dwane Casey was also looking to become the winningest coach in franchise history, chasing win number 157. This was also the first time Greivis Vasquez returned to the ACC after being traded on draft day from Toronto for the rights to Norman Powell and a protected first round pick in 2017. Before the game, Vasquez said that the trade was hard on him but with the way the Raptors got swept in the first round last season he knew his days in the "Six" were numbered.
In the first quarter, the Bucks were unable to take advantage of some good looks early on and struggled to score in the half court when Toronto had time to set up their defense, this is an area where Jabari Parker and OJ Mayo certainly would have been of some help. The Bucks had to rely primarily on transition buckets to score. Toronto meanwhile took great care of the ball and also moved it well, accumulating seven assists on their first nine made field goals.
Toronto center Jonas Valanciunas was electric in the low post and proved to be too much for Greg Monroe or Miles Plumlee to handle; were Henson available to play tonight he certainly would have been tasked with stopping the imposing Lithuanian. Valanciunas will be looking to make a big leap this season as he should enjoy an increase in late game minutes and a large defensive responsibility now that Amir Johnson has left his longtime home in Toronto. He had 19 points to go along with 8 boards.
DeMar Derozan of the Raptors also enjoyed his first plus .500 shooting night of the season, hitting his first five field goals and ending the game with a solid 15 points on 7-for-13 shooting and four assists to boot. DeRozan is likely to turn down his player option at the end of this season and seek a max contract and so performances like these where he demonstrates his range of abilities are likely to become very common for him.
Going into the halftime break, Toronto enjoyed a 14-point lead at 55-41, but Milwaukee turned up the heat in the third quarter taking advantage of a weak performance from the Toronto bench who only managed 17 points through 36 minutes of play. The third came to an end with Bismack Biyombo missing three layups within two-feet of the rim and a dunk.
Milwaukee started the final quarter down only 10 despite playing a very ugly game and managed to get it to within six points with 10 minutes left to play. Dwane Casey, seemingly determined to get that record breaking win for himself, reshuffled his players on the court and within four minutes Toronto's lead was back up to 17 thanks to a flurry of threes from Patrick Patterson and Terrence Ross.
Giannis Antetokounmpo was a bright light in an otherwise forgettable Milwaukee performance as he unsuccessfully tried all he could to bring his team back in it. His night ended with 20 points on 8-for-12 shooting to lead all scorers and nine rebounds.
In the end, the newly improved Raptors were just too much to handle for the injured Bucks who dropped a third game in a row to remain winless this season. Milwaukee players and fans will have no choice but to look forward to their game Monday night in Brooklyn against the Nets to finally get that first win of the season. Until then, they will continue to desperately await the return of their missing key rotation players. Dwane Casey also put his name in the record books as he added that 157th win to become the Raptors all-time winningest head coach.