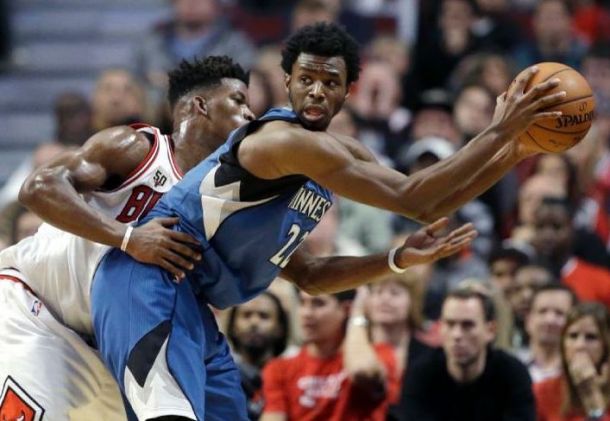 Story:
The Chicago Bulls shot 35 percent from the field with a 1 of 18 stretch at the end of the game in a home loss to the Minnesota Timberwolves. The Bulls were out-rebounded, outscored on the fast break, and allowed Minnesota to shoot above 40 percent from three.
Andrew Wiggins scored 31 points in a solid shooting effort. Derrick Rose could not continue his successful play against the Oklahoma City Thunder, only scoring 11 points on 3 of 13 shooting in this one. Jimmy Butler shot 4 for 15, and Nikola Mirotic shot 1 of 8. Pau Gasol was one of few bright spots for the Chicago Bulls, with 21 points and 11 rebounds in a losing effort.
The Timberwolves were also aided by a 17-point, 11-rebound effort by rookie cornerstone Karl-Anthony Towns. The Bulls were held scoreless in the overtime period, as the Timberwolves held on.
The Bulls play was alarmingly lazy, with forced shots, limited fast break success, and being defeated heavily on the boards. The Bulls fall to 4-3 on the regular season. Mirotic, Rose, and Butler shot a combined 8 of 36, and the team could not make up such a load.
The Timberwolves were aided by a variety of contribution from their young stars, such as a 10-assist game from point guard Ricky Rubio, a double-double from Towns, and 31 points from Wiggins.
Takeaways:
Derrick Rose is not very consistent nowadays.
Rose was so good against OKC, and then performed very poorly tonight against Minnesota. Though perhaps his facial injury is a contributor, Rose appears aggressive some days and very mediocre on the others. In order for the Bulls to go further, Rose must play more consistent.
The Timberwolves have both the previous number one overall picks, and they are both worth the hype.
Both Andrew Wiggins and Karl-Antony Towns were excellent this game and they are both worth the praise. There are certainly All-Star appearances in both players' future. Andrew Wiggins is becoming a promising shooter with great athleticism, and if he can become more aggressive such as how he was tonight, he can become an elite two guard in this league.
Karl-Anthony Towns appears to be a proven Rookie of the Year candidate with strong touch and skill. He is a double-double threat well on his way already if he can keep adapting. Both these players are excellent future stars for the Timberwolves to build around.
What's next:
Both teams play on Monday night, with the Chicago Bulls traveling to the city of brotherly love to play the Philadelphia 76ers. The Minnesota Timberwolves will try to win their fourth game of the season on the road against Al Horford and the Atlanta Hawks.