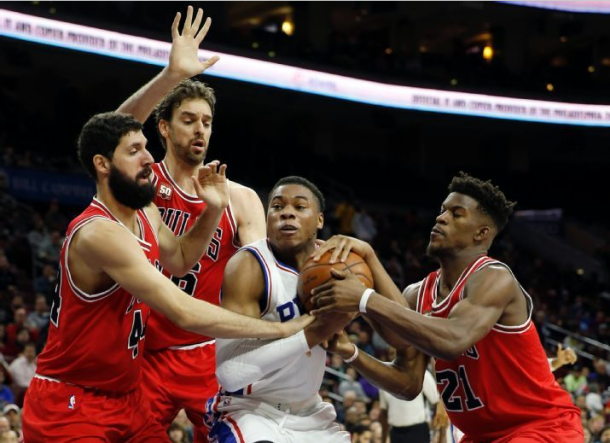 The game started rather strange as Fred Hoiberg looked to be shaking up the starting lineup, or what it seemed. Intially, Joakim Noah was suppose to start for the Bulls instead of Nikola Mirotic as Fred Hoiberg continues his search for the perfect lineup. But it was Mirotic who started the game with Noah on the bench. Then Noah proceded to leave the Bulls bench and headed to the locker room and was ruled out due to left knee soreness.
But it didn't stop the Bulls as Chicago started off hot in the first quarter as they blitzed the Philadelphia 76ers early as they raced out to a 31-22 lead. After losing to the Minnesota Timberwolves last Saturday, the first quarter start was a positive sign for the Bulls. Chicago has shown up in big games against some of the top teams in the NBA but has struggled against some of the lesser quality teams.
But the 76ers came back in the second quarter as Jahlil Okafor, who had a monster game for Philadelphia, along with Nik Stauskas, brought Philly back to give them the lead before the half. But Chicago went on a mini-run to restore the nine point lead before the half. It was good for the Bulls to have them rally the way that they did after watching Philadelphia storm back to take the lead. The Bull have seemed disinterested in games at times and seeing them bounce back after blowing a double digit lead should be good for the teams morale.
The third quarter turned out to be similar to the first as the Bulls took control of the game after the half. Behind Mirotic and Doug McDermott, who each had three three-point field goals, Chicago held a 14 point lead heading into the fourth quarter.
With a big lead heading into the fourth, Hoiberg elected to get his young palyers some minutes as the Bulls continued to pound the 76ers. Rookie Bobby Portis and Cameron Bairstow were some of the players who got some crucical playing minutes as the Bulls rested the likes of Derrick Rose and Jimmy Butler in a blowout. It was a good move as Hoiberg tackles the challenge of managing the minutes in Chicago.
It was an impressive bounceback game for Nikola Mirotic. After starting out the first week of the season on fire, he bounced back with a 20 point game and shot almost 50 percent from deep. However, he has struggled on the defensive end and will have to improve on that if he wants to stay in the starting lineup. Fred Hoiberg has shown that he is not afraid to mess with the lineup and Mirotic's starting spot is in jeopardy.
It was a solid win for the Bulls and they will get a rest as they play the Charlotte Hornets in Chicago on Friday.