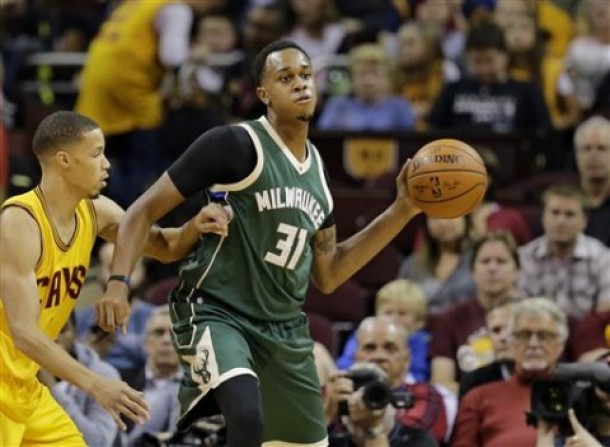 The red-hot Cleveland Cavaliers, winners of eight consecutive games, look to extend their winning streak on Saturday night as they take on the Milwaukee Bucks at 7:30 EST.
The Bucks, who come into the game at 4-5, suffered a tough loss on Wednesday against the Denver Nuggets. Giannis Antetokounmpo nailed a jumper in the lane over Kenneth Faried with 17.5 seconds left to briefly take a 102-101 lead and it appeared Milwaukee had the game in hand as Danilo Gallinari shot an air ball from the corner. However, Faried jumped up in the lane to snatch the ball legally and put it back in with five seconds remaining for the game winner. Reserve guard Jerryd Bayless, who is averaging 17.7 points over the last three games, led the Bucks with 22 points including 15 in the fourth quarter alone, nearly willing the team to victory.
As for the Cavs, they beat the New York Knicks 90-84 on Friday night as Lebron James scored 31 points and Mo Williams proved to be clutch as he made the tiebreaking field goal with 41 seconds left and finished with 20 points. Cleveland relied on its stout defense as it held the Knicks to just 12 points in the final period and 36.7 percent shooting for the game.
The last time these teams played each other was in the preseason when Milwaukee won 110-101, but Cleveland was decimated with injuries at the time. Additionally, the preseason is not a good measuring stick of where these two teams are currently at. Cleveland is getting it done on both ends of the court as it is tied for 6th in the league at just over 104 points per game while holding teams to 95.5 points per contest, fifth best in the NBA. On the other hand, Milwaukee has struggled on offense, averaging 96.6 points per contest (tied for 24th), while being exposed on the glass, averaging just 37.9 boards per game (30th). It will be interesting to see if the Cavs' lengthy frontcourt can take advantage of this discrepancy especially with a solid rebounder like Kevin Love, who leads the team with 12 rebounds per game.
The matchup to keep an eye on will be the long, athletic Greek Freak versus King James. Antetokounmpo leads the young Bucks in scoring, averaging a team-leading 18 points per game to go with 6.8 rebounds on 55 percent shooting while James has been the obvious focal point of the Cavs offense, averaging 30.5 points per game over his last four while dishing out 6.6 assists per game.
Also, look for Willliams, who has started this season shooting lights out at 49 percent and has scored 49 points in his last two games, to light up his former team, whom he played for from '04-'05 to '07-'08.
In addition, tonight would be a great night for Khris Middleton to step up and snap out of his recent offensive slump. Although he is averaging 14.2 points per contest, he is shooting a dismal 36.9 percent from the field this season, down from 44.8 percent last year, and has not looked like a player who earned a five year, $70 million contract thus far.
As far as injuries are concerned, Michael Carter-Williams, who missed five games due to an ankle sprain, is listed as probable while O.J. Mayo is doubtful as well as John Henson. Jabari Parker is slated to start as he rested on the second night of a back-to-back against Denver. Cavs point guard Kyrie Irving is still out, rehabbing from a fractured knee cap, which is a relief for the Bucks as he scored 25 points per game in last season's series.
Bucks expected starting lineup: Carter-Williams, Middleton, Antetokounmpo, Parker and Greg Monroe.
Cavs expected starting lineup: Williams, J.R. Smith, James, Love and Timofey Mozgov.