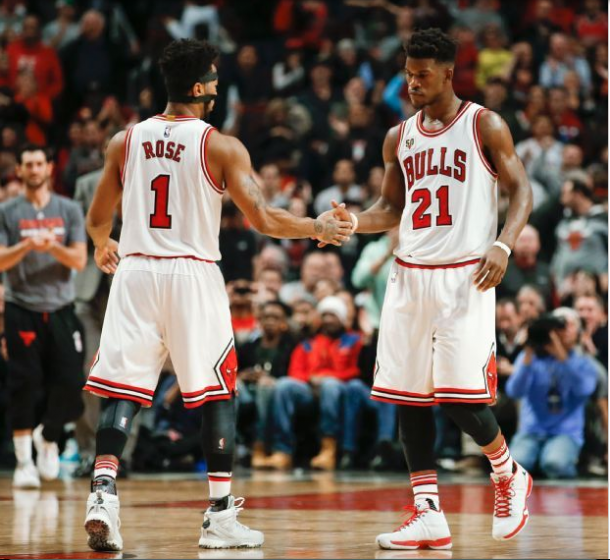 After the implosion in Charlotte, it must have been good for the Chicago Bulls to beat the Charlotte Hornets on Friday.
The Bulls rode the likes of Jimmy Butler and Pau Gasol on offense as they beat Charlotte 102-97. Butler led the team in scoring with 27 points and Gasol had another double double with 19 points and 13 rebounds.
Since they had a disappointing overtime loss to the Minnesota Timberwolves, the Bulls have picked it up offensively but still have more to do and have to be more consistent. The Bulls have stepped it up against the better teams in the NBA but have struggled with some of the teams you would expect the Bulls to beat soundly.
Chicago also received troubling news when Fred Hoiberg told reporters that Derrick Rose could experience double vision for a longer period of time than expected. The point guard has had trouble shooting the ball and was expected to recover from this injury in a shorter period. But he is making the most of it by turning into a distributor for the Bulls. He is averaging 6 per game and has found a new role in this Chicago offense.
This will be also Chicago's last home game for about two weeks as they go on a four game road trip after this clash against the Indiana Pacers.
After struggling last year in wake of Paul George's horrible leg injury, the Pacers have bounced back and are beginning to show the form that they did when George was healthy.
But the biggest factor to their success has obviously been Paul George. George is averaging 24.3 points and 8.8 rebounds per game and has had a great start to the season even with the adjustments he had to make.
George is expected to play more at power forward as Frank Vogel looks to see if the trend of small ball could work in Indiana. It worked with the Golden State Warriors and so far its working for the Pacers.
But Indiana could have trouble on the boards with Chicago as the Bulls pose a bigger threat on the boards than most team.
The two teams last met in the pre-season when Chicago overcame a early first quarter deficit to come back and beat Indiana 103-94 and were led by the 22 of Aaron Brooks. It will be a much different matchup this time however.
Both teams will likely battle it out for second place in the Central Division and are expected to be in the top 6 seeds in the Eastern Conference. This will be one of the premier matchups of the day as the Bulls look to maintain their spot in the top of the East and Indiana continues its climb back to the top.