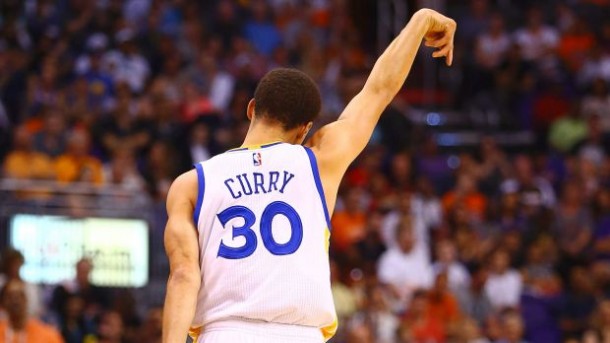 Well, it is no surprise, Steph Curry is playing at an incredible level this season and is already the front-runner for the NBA's Most Valuable Player. He has the Golden State Warriors off to an undefeated start through 11 games and has been quoted saying, "We are better than we were last season."
Well, to the other 29 teams in the NBA, that is exactly what you didn't want to hear from the reining champions. With Curry playing this well it brings up a very good question; Who can challenge him for MVP?
LeBron James, Russell Westbrook, and James Harden all almost had a heart attack because of how this article started. With Curry getting all the attention in the NBA because his team is undefeated in addition to the way he plays, these other three early MVP candidates are being overlooked. 
LeBron has had another "King James" start to the season by averaging 27.0 points, 6.4 assists, and 6.8 rebounds per game. Quite frankly, these numbers overall are better than Curry's, but the Cleveland Cavaliers are not undefeated and that is a major factor.
Russell Westbrook is another early candidate for MVP. He is having the best season out of any of the candidates based on statistics alone. He is posting 26.7 points, 10.6 assists, and also 7.7 rebounds per game. These numbers from the point guard position are plain out ridiculous! The main reason he is not talked about as much as LeBron or Curry is because of one thing: The record of his team. Although the Oklahoma City Thunder do not have an awful record, they should be better. One of the reasons for such an average record (6-5) is the injury to forward Kevin Durant. 
Durant hurt his hamstring earlier this season and currently the team still doesn't know how long he is expected to miss. Due to his absence, Westbrook has had to make up for it in all facets of the game. As you can tell from his stats, he takes it on himself to get this team the wins they desperately need. Despite these factors, Westbrook has to be in the discussion of MVP so far.
Last, but not least, James Harden should also be in the running for MVP this season. He has recorded 27.3 points, 5.8 assists, and grabbed 6.0 rebounds per game. Although, these numbers are not Harden-like, they are still solid enough to put his name in the mix for MVP.
These numbers are also particularly impressive with how awful the Houston Rockets have been this year. 
So, with all that being said who should the front-runner be for MVP? Should Curry, the most exciting player so far this season, get it? What about LeBron? He has been the most consistent. Westbrook for MVP? With an injured Durant it will be hard for the Thunder to do any damage in the Western Conference this year.
Even Harden makes a case with putting up nice numbers on a bad team. There can only be one MVP at the end of the season and there can only be one favorite at the beginning. 
At this moment, Curry edges his competitors out by just inches. We shall see how the season plays out, but who will it be? Curry, LeBron, Westbrook, or Harden? Time will only tell.