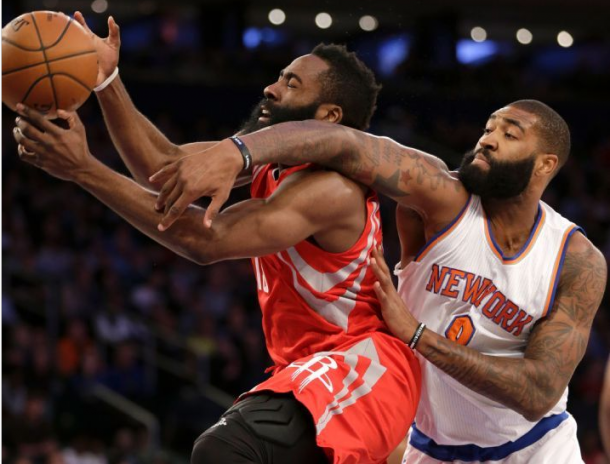 After having defeated the Houston Rockets on the 21st, the New York Knicks were unable to clinch a second victory over the struggling club. The New York Knicks led most of Sunday's game, but lost the lead after being outscored during the second half. Houston would go on and defeat the Knicks 116-111 in overtime.
James Harden, who played a game-high 45 minutes, scored 26 points shooting 10-18 from the field. Harden struggled from the three-point line, missing all seven of his attempts from beyond the arc. The Rocket's superstar came off of a memorable performance against the winless Philadelphia 76ers when he scored 50 points. Despite his immense contribution, the Rockets only topped the worse team in the NBA by two points, so the win was welcomed with skepticism.
During the final seconds of regulation, Marcus Thornton sank a three-pointer with 33 seconds left to tie the game. In response, forward Lance Thomas, who scored 15 points, missed the final shot for the Knicks. With few seconds left on the clock, Harden also tried to seal the game but missed a 19-foot jumper.
Ultimately, the Rockets ran with the game during overtime.
The New York Knicks were without their superstar Carmelo Anthony tonight. As a result, Arron Afflalo stepped up, scoring a game-high 31 points with an impressive 13-of-19 shooting. Afflalo stuffed the stat sheet, adding seven rebounds and four assists to his performance. It was an admirable outing for the veteran shooting guard, who has not scored more than 20 points since donning the orange and blue.
Rookie Kristaps Porzingis also had an impressive outing, scoring 20 points and grabbing 13 rebounds, making double-doubles a common occurrence. The rookie continued to impress, making 8 of his 13 shots.
Opposite of Porzingis was Clint Capela, who was a bright spot for Houston. Capela finished with 18 points and 11 rebounds. Capela's frontcourt mate and star, Dwight Howard, had 14 points and ignited the Rockets during an OT slam over rookie Porzingis.
The Knicks are now two losses under .500 and the Rockets are looking to forget the struggles of November, improving to an underwhelming 7-10. Ty Lawson, who was expected to add a new dimension to the Houston offense, was listed a DNP via coach's decision. This is a great disappointment to Rocket's fans who hoped the former Denver star would prosper in this new setting.
The Knicks will look to recover on Wednesday against the Philadelphia 76ers and Jahlil Okafor. Carmelo Anthony was out because of an illness so it is likely that the superstar will return to the lineup. The Sixers have lost all 18 of their games this season and will travel to New York in hopes of seizing their first.