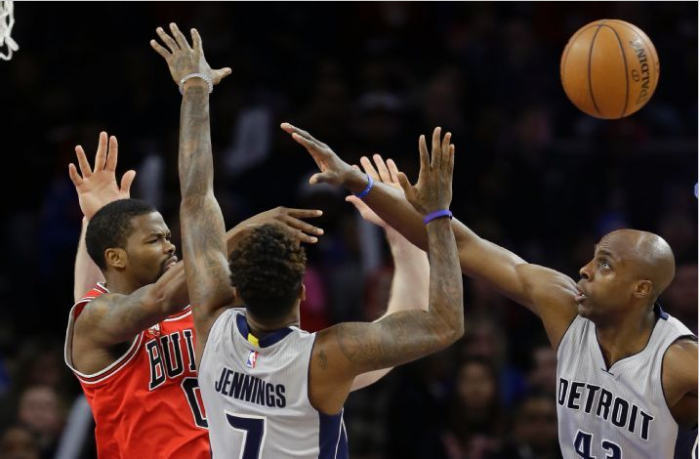 After coming out flat against the Dallas Mavericks on Friday, the Chicago Bulls rebounded with a win against the Detroit Pistons thanks to a huge game from Pau Gasol.
Hot shooting Pistsons keep with Chicago
Despite Chicago's recent woes, the Pistons were still underdogs in this matchup and came out gunning from the start. The Pistsons shot 68% from the field in the first quarter and built up a double digit early in the quarter. But Chicago rebounded with solid play and closed the gap to six at the end of the quarter with Detroit only leading 32-26. Credit must be given to Chicago for coming back from a rough start as they had to do that against the 76ers on Thursday and did it against the Pistons today.
The 2nd quarter saw the Bulls take the lead as E'Twan Moore hit a turnaround jumper from the baseline. From then on, it was a battle back and forth as both teams battled for control of the game. All of Chicago's stars came to play in the second quarter as the likes of Derrick Rose and Jimmy Butler got it going in the second quarter. Especially Rose who has been on fire since Christmas and has shown a vastly improved jump shot. Gasol also chipped in as he lead Chicago in scoring at the half with 15 points as the Bulls held a 56-53 leading heading into the half.
Chicago pulls away from Detroit
The 3rd quarter saw Chicago jump on the Pistons early with a 6-0 run and it seemed like the game was slipping away from Detroit. But the Pistons showed some grit and were able to battle back as the game headed into the 4th but some key plays before the end of the quarter were plays that ended up hurting the Pistons in the end.
First was when Andre Drummond picked up his 4th foul and forced the big man to start the 4th quarter on the bench and the second play saw Kentavious Caldwell-Pope ejected as he picked up his second technical. Losing both KCP and Drummound really hurt the Detroit offense in the 4th and Chicago took advantage.
Chicago began to pull away from the Pistons in the 4th led by Pau Gasol who ended up with 31 points and 10 rebounds for Chicago. The Bulls ended up outscoring the Pistons in the last three quarters as they beat Detroit in the Palace of Auburn Hills 111-101.
Top Performers
Pau Gasol was the main man for Chicago as he scored 31 points and 10 rebounds for Chicago. Derrick Rose and Jimmy Butler both combined to score 36 points for the Bulls tonight as well.
Ersan Ilyasova was the main man for the Pistons tonight as he scored 19 points for Detroit.
What's Next?
Next for the Bulls are the Golden State Warriors on Wednesday.
Next for the Pistons are the Houston Rockets on Wednesday.