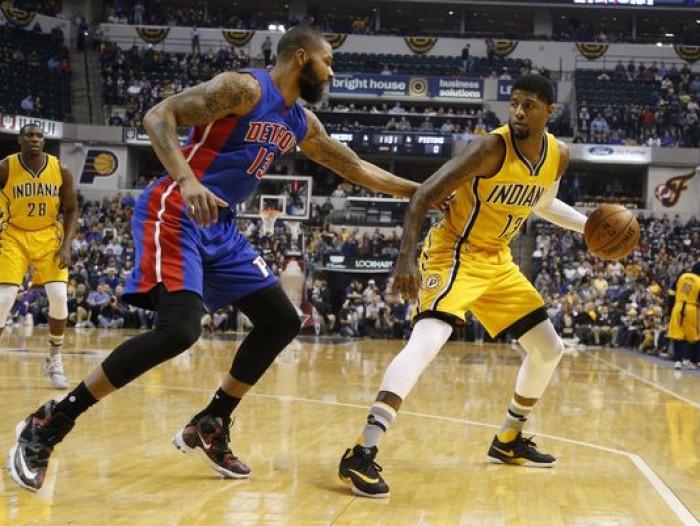 The Indiana Pacers and Detroit Pistons met for the final time of the 2015-16 season Saturday night after the Pacers won two of the first three games of the season series against Detroit, and they looked to make that three wins of four.
Indiana did just that, taking down the Pistons by a score of 112-104. With the win, the Pacers have gained an extremely important place in the Eastern Conference standings and the Central Division, as they now sit at 27-24, good for being a game-and-a-half ahead of the Pistons for the seventh seed.
In Depth Look At The Pacers Win
The Pacers got a big night out of Paul George for the second straight night, as he hit the 30-point mark Saturday night after a 31-point outing Friday. George finished the night with a game-high 30 points, 17 of which coming in the first half. PG was on a role to start the third quarter as well, but then picked up his third foul and had to go to the bench.
Indiana had big leads throughout the game, but once Paul George picked up his fourth foul in the third quarter, the Pistons made their push, once even bringing down the deficit to under 10 points.
The Pacers had starting center Ian Mahinmi back tonight after he missed three games with a sore lower back, and having him back in the starting lineup really helped the Pacers contain Andre Drummond and the Pistons' other bigs.
Drummond had caused lots of problems for the Pacers in previous matchups in both the scoring and rebounding battles, but he went on to finish with an underwhelming double-double of 10 points and 13 rebounds. That sounds better than it showed on the court, considering the fact that earlier in the season against the Pacers, he had recorded game highs under the glass and on the attack. He posted 25 points and 29 rebounds back on November third against the Pacers; limiting him to only 10 points and 13 rebounds was a pretty good effort by the Pacers' bigs to contain him.
Reggie Jackson led the Pistons in scoring on Saturday night, with 26 points.
Containing The Post
In past matchups with the Pistons, the points in the paint have hurt the Pacers a lot. That all goes back to whether Indiana's bigs play solid defense. On Saturday night, the Pacers bigs were sturdy enough to help contain Detroit's bigs adequately to capture the big victory. The Pistons won the points in the paint battle, 40-38, with just a two point margin between the two sides, much better than it has been in past matchups. Indiana also had a good rebounding night, outrebounding the Pistons 42-38.