 The most recent nightmare for the New York Knicks was not an inability to run the triangle, but Coach Derek Fisher's inability to stay out of one. At least, that's one reason Fisher was relieved of his coaching duties one week ago, along with some questionable comments and late-game decisions. So, Fisher is out, but could another key piece to the franchise be on the move as well?
Carmelo Anthony on the Move
This past Friday during the Rising Stars Challenge in which rookie Kristaps Porzingis started for the World Team, Frank Isola of the Daily News reported that a blockbuster trade was being discussed among the Cleveland Cavaliers and the Boston Celtics, centered around Kevin Love, but a third team was tossed into the triangle, and a fitting one, given their inability to escape it. According to Isola, preliminary discussions are being held about extending these trade talks to the Knicks, a trade that would send Love to Boston, Carmelo Anthony to Cleveland, and in return the Knicks would receive players (Timofey Mozgov was mentioned), and draft picks. Keeping in mind that Anthony has a no-trade clause and can only be dealt if he decides to waive it, there's a lot to consider here if this is a credible rumor.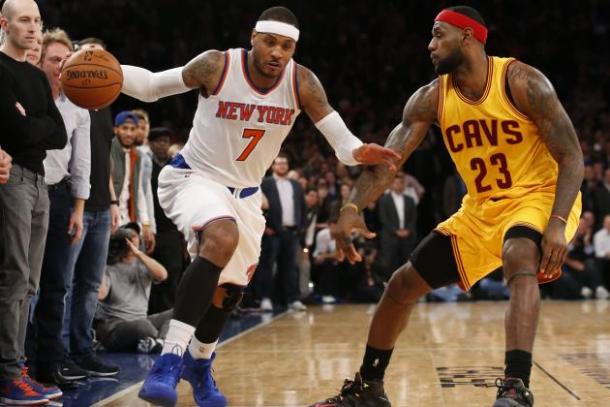 Though Anthony continues to play some of the best all-around ball of his career, it's clear his knees are giving out, not only affecting his shooting, but actually keeping him off the court. He's missed seven games thus far this season, all of which the Knicks have lost. Cutting to the unfortunate chase, it seems improbable the Knicks will ever win a championship with Anthony as the centerpiece. Like every other star in the NBA, he needs some help, some superstar talent to play off of. Is it time he moves on, teaming up with LeBron James and former teammate J.R. Smith to win the big rings Drake can't stop singing about? Maybe, and maybe deep down that's what Anthony wants more than anything, but this weekend he shut down all rumors of this supposed mega-deal.
Anthony Shuts Down Rumors
"I don't want to run. I could have ran somewhere when I was a free agent. I came back for a reason. I don't feel like I got to keep expressing that part of why I came back to New York," Anthony told the media, reassuring Melo fans everywhere that he's here to stay, for now.
Anthony also told the media about his desire to win a championship, especially at this point in his career, but he's also repeatedly expressed his faith in President Phil Jackson and what seems like an agonizing process.
Can Phil Conjure Up a Trade?
A multitude of things need to happen before the Knicks can even begin to contend for the title, but starting with the most looming issue to date, the Knicks need a legitimate point guard. Though in his older age, Jose Calderon can still drain threes and has become increasingly aggressive, his sub-par speed and defensive abilities are not cutting it against the more elite PGs he's faced on the floor. Guards such as Chris Paul and John Wall have consistently blown past the Knicks backcourt, repeatedly exposing the defense. Rumors of trading for the Atlanta Hawks' Jeff Teague before the approaching deadline or pursuing the Memphis Grizzlies' Mike Conley in the upcoming free agency have surfaced, and both options are tremendous upgrades. The problem with potentially trading for Teague before the deadline on Thursday is the lack of assets the Knicks currently possess. The Knicks have just made it known that both Calderon and Kyle O'Quinn our up for grabs, but that package is incredibly underwhelming. In order to receive any kind of value back, the Knicks may have to cough up Langston Galloway, Derrick Williams, even an Arron Afflalo, or Phil Jackson is going to have to get very creative.
We Want Thibs!
Lingering a bit more on the need for defense, a new coach is in order and not one as inexperienced or involved in triangles as Fisher. Jackson preached defense as far back as scouting draft picks, and he successfully acquired his defensive-minded big man in Porzingis. Now it's time to go and get the defensive-minded coach in Tom Thibodeau, who is all but begging to return to the Knicks. All that the Knicks lack in defense and rebounding, Thibodeau has demonstrated he can implement and keep consistent. He's not a triangle-kind-of-guy, but he's certainly a respected leader and can get this group playing with the kind of team philosophy so coveted by Jackson.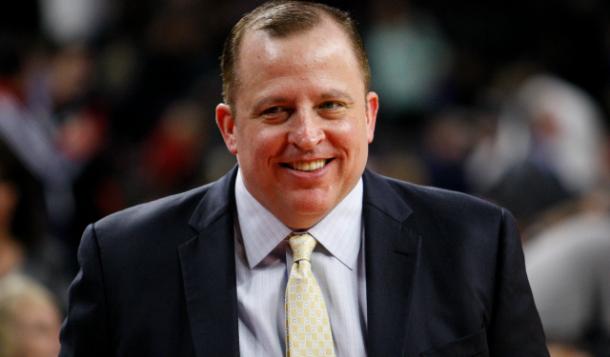 A Franchise-Changer
Arguably most important of all is the need to get Anthony help, preferably another star to play beside. The big name on the market this upcoming free agency is the Oklahoma City Thunder's Kevin Durant and whether or not Jackson and Anthony, and the added bonus of Porzingis, can finesse one of the most talented stars in the league to face the bright lights is a pending mystery, but one that would change the future of this failing franchise. Who knows? With the ever-looming threat of the Golden State Warriors in the Western Conference, bringing his talents to New York could be Durant's ticket back to the finals, if he can get the Knicks there.
For now, the Knicks as they are can only focus on the remaining 27 games of the season under newly appointed interim head coach Kurt Rambis, whose goal, adverse to Fisher's is to get them into the playoffs. Sitting five games out of the eight seed in a highly competitive Eastern Conference, the Knicks will need to hit the ground running as they take on the Brooklyn Nets on Friday, February 19. There's still time, but it might already be too late.