General Manager Sam Presti and the Oklahoma City Thunder made their move Thursday before the trade deadline, sending a package of D.J. Augustin, Steve Novak, and two second-round draft selections to the Denver Nuggets in exchange for valued veteran guard Randy Foye.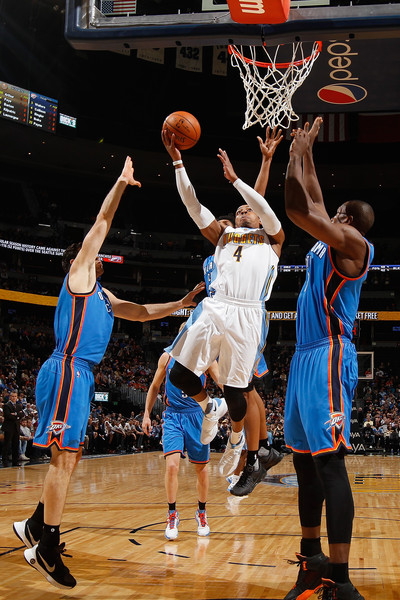 Randy Foye: The Piece Oklahoma City Needs?
Foye, 32, is averaging 6.0 points and 2.1 assists per game this season in 19.8 minutes played per game for the Nuggets. Normally a heavy scorer, the aging guard has seen less floor time this season for Denver, and his shooting efficiency has declined as well.
The Thunder has been looking for some additional depth and bench scoring this season, struggling to put up consistent figures in the reserve department. Foye over his career has tallied 11.0 points, 2.9 assists, and 2.3 rebounds per contest, and should help provide a spark on both ends of the court to this contending OKC squad. His career 37-percent efficiency from beyond the arc will help add a perimeter threat to the depths of the Thunder's roster.
Oklahoma City is Foye's sixth destination over his 10 NBA seasons.
D.J. Augustin & Steve Novak: Perfect Dump For Thunder, Any Use In Denver?
Augustin is also a veteran guard, now headed to Denver to help provide depth at the point. Behind Russell Westbrook and, lately, Cameron Payne for the Thunder, he became more and more useless in his spot on Oklahoma City's roster.
Oklahoma City was clearly looking to unload him and Steve Novak, two unused options with a combined decent value. The Nuggets are reportedly shopping for another team to take on Novak's oversized contract, while they should be able to utilize the 28 year-old Augustin.
Novak will be joining his ninth team in ten years of NBA action, while Augustin joins his seventh organization in eight capaigns. Augustin scored 4.2 points per game and dished out 1.9 assists per game in 15.3 minutes per game for the Thunder in 2015-16, but the value in this trade for Denver remains the two second-rounders they will be getitng from OKC.
Augustin joins Emmanuel Mudiay and Jameer Nelson in the Nuggets backcourt.