Markieff Morris has finally eked his way out of the Phoenix Suns organization.
In a package deal with the Washington Wizards finalized just minutes before Thursday's 3:00 PM EST deadline, Morris was sent to the Wiz in exchange for DeJuan Blair, Kris Humphries, and a protected first-round draft pick.
Morris Finally Out Of Phoenix
Morris, 26, practically threw in the towel on the Suns in July when his brother, Marcus Morris, was shipped away via trade to the Detroit Pistons. The disgruntled forward originally would not be shopped on the trade market regardless, but as his attitude became a greater issue and his level of play declined, it was time for Phoenix to pull the trigger.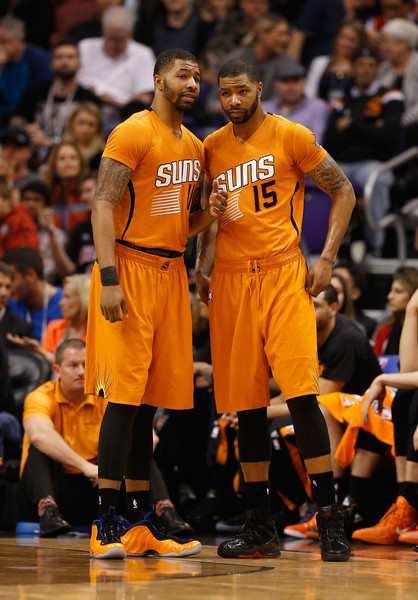 The Kansas Jayhawks product is averaging 11.6 points and 5.2 rebounds per game this season, less than his impressive totals in 2013-14 and 2014-15. He started all 82 games for the Suns last season and formed a great duo with point guard Eric Bledsoe.
Morris holds career averages similar to his numbers this season, with 11.4 points per game, 5.4 rebounds per game, and 145 starts through four-plus seasons. He signed a four-year, $32 million extension with Phoenix in 2014, a deal that drove him to his best season yet in 2014-15.
What The Suns Got
DeJaun Blair and Kris Humphries are a duo of big men who can play heavy-effort roles of the bench for the Suns.
Blair hasn't had much of an opportunity to produce this season, playing just 7.5 minutes per contest and recording 2.1 points and 2.0 rebounds per game. He is a proven veteran who will help in the locker room as well for Phoenix.
Humphries, now 31, is averaging 6.4 points and 4.1 rebounds this season, keeping close to his career averages of 6.9 and 5.6, respectively. He was a double-digit scorer for the Brooklyn Nets from 2010 to 2012.
A first round pick is really what had to have sealed the deal, though. It's a great asset to have, especially since it's protected, meaning the Suns get a guaranteed opportunity at one of the world's finest young players.