 DeMar DeRozan scored 31 points while fellow All-Star teammate Kyle Lowry had 21 points and six assists to help the Toronto Raptors defeat the Minnesota Timberwolves on Wednesday for their franchise record-tying ninth straight home win.
The tandem of DeRozan and Lowry each hit two three-pointers in the final four minutes of the game to finally take the fight out of the T'Wolves.
The Raptors outscored the Timberwolves in the final period 27-19, and 20 of those points came from the All-Star duo.
They fought extremely hard. Nothing came easy. We just tried to close it as best we could." said DeRozan. "We executed. We got stops when we needed to and we got buckets when we needed to."
Andrew Wiggins had 26 points, Gorgui Dieng added 21 points and eight rebounds, Karl-Anthony Towns had 16 points, and Ricky Rubio contributed 12 points and 12 assists for the Timberwolves.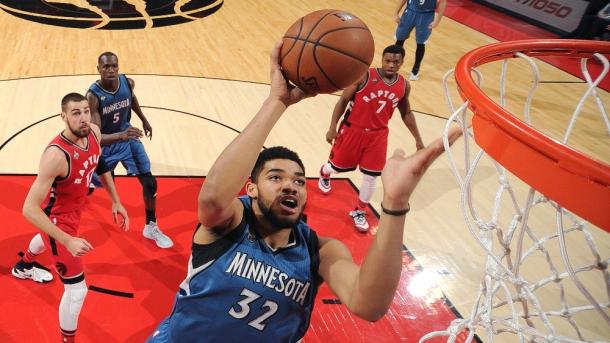 "We made some mistakes at the end and they made shots," said Rubio. "They're a tough team to beat, especially at home. That's why they're the second-best team in the East. We have to be proud of the way we played."
The Timberwolves kept it close through the first three quarters, but they struggled to score in the fourth because of the tightened defense of the Raptors.
However, the T'Wolves managed to tie the game at 101 in the final minutes of the game before Lowry and DeRozan hit back-to-back triples to extend the Raptors' lead back to six. Dieng then answered with a basket, but Lowry responded with another trey. Wiggins countered with another two point bucket, and again Toronto connected on a three courtesy of DeRozan to seal the win.
Lowry praised the effort of the young Timberwolves squad after the game.
"That team, they're good. They've got some talent over there. When they get it together, they're going to be a force. They're good, it's as simple as that,"
Facts of the Night
The Toronto Raptors could win their 10th consecutive at home on Friday when they host the East-leading Cleveland Cavaliers.
The Raptors are 17-3 since January 6, the best record in the East during that span.
Sam Mitchell made his first trip back to Toronto as the interim coach of Minnetosa.
Minnesota shot 50 percent in the game. They are 6-6 in the season when shooting 50 percent.
Terrence Ross was ejected after getting a second technical foul with 1:47 to go in the third.
Karl-Anthony Towns, the number one pick of this year's draft scored a career high 35 points against the Raptors on February 10, and they won that game 117-112.