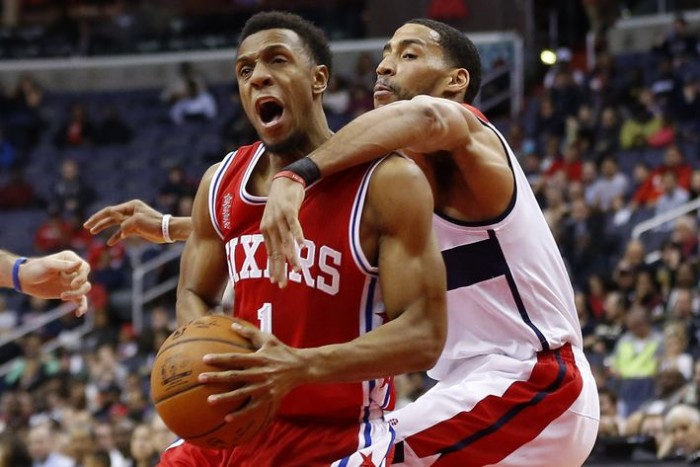 The Washington Wizards continued their winning ways on Monday night, but not without a tough challenge from the Philadelphia 76ers.
After leading by 12 at halftime, Washington succumbed to a 3rd quarter run by the Sixers. Thanks to big shots by John Wall and Marcin Gortat, the home squad managed to hang on and improve to 6-2 since the All-Star Break.
Wall to Wall
Wall had a splendid game, finishing with 37 points, seven assists, four rebounds, three steals, and just two turnovers. Along with Markieff Morris and Marcin Gortat, Wall played the entire 4th quarter - in which he scored 16 points, eviscerating and frustrating the Sixers' defense play after play. Down the stretch, Philly became upset with the abundance of foul calls against them, and Wall used it to his, and the Wizards', advantage to forge a game-sealing run. Washington was down by seven with about eight minutes left in the 4th, and after Wall scooped in a fast break and-1 layup, the Wiz made their move and ripped off 14 straight points to take a 100-93 lead.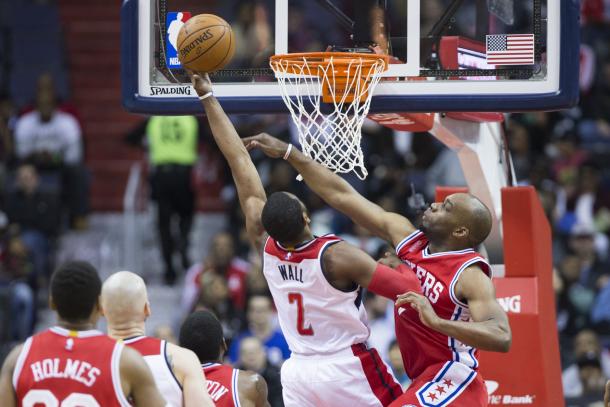 Oh Noel You Don't!
The Sixers weren't dead, though. With Jahlil Okafor sitting due to a right shin contusion, Philly's center Nerlens Noel took charge and had a wild yet efficient game. Noel was 5/8 from the floor, including his first career three-point attempt and make! He finished with 11 points, six rebounds, two assists, and two steals, leading Philly's offense alongside Ish Smith, who scored 25 points on 18 shots.
When the Sixers were on, Noel was their catalyst. After falling behind 60-48 at halftime, his energy brought the Sixers back with strength, and he frustrated the Wizards multiple times. Once the game seemed over, a Nerlens steal and slam followed by a pull-up swish of a three by Smith brought the Sixers back within three. Yet, a Morris 18-footer off a pick n' pop with Wall put Washington up 5, and the Wizards pulled away in the final minute.
The Quieter Standouts
With Nene inactive, Wall's performance was bolstered by Morris and Gortat. Markieff thrived in crunchtime in his best game as a Wizard (16 points/13 rebounds/five assists), and Gortat (18 points/20 rebounds/seven offensive/five assists) set a new career high in rebounds. During the Wizards' fourth quarter run, Gortat swooped in for multiple putbacks, and Morris, perhaps surprisingly, was a ball of energy on the floor.
For the visitors, Jerami Grant had a stellar game. One of Philly's more prized younglings, Grant has made massive strides in his game this season - and it's not because of his long, speedy legs. Grant finished with 14 points, six rebounds, four assists, and two blocks while shooting 6/11 from the field. Without Okafor on the floor, Grant was an integral part of the Sixers' offense by getting into the paint consistently, moving the ball, and hustling across the floor.
Early in the 4th, Grant had to absorb a Flagrant-1 courtesy of Bradley Beal, who swung down and launched Grant onto the floor on a fast-break block attempt. Even in a dangerous situation, Jerami flaunted his stunning athleticism by outrunning Wall from the same spot on the floor to get the ball and go up for a lay-up attempt.
Up Next
On Wednesday, the Wizards take on the Minnesota Timberwolves on the road, while the Sixers battle the Charlotte Hornets at home.
After tonight's win, the Wizards are 1.5 games behind the four teams in the 6th to 9th slots in the East. They've helped themselves a lot since the All-Star Break, but will have to keep it up to secure a playoff spot.