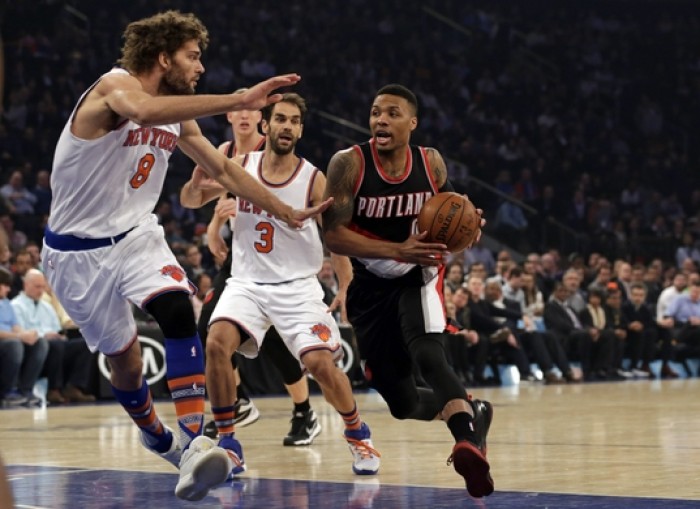 After taking a 17-point loss to the Miami Heat on Sunday night, the New York Knicks were looking to bounce back and protect their home court. Meanwhile, the Portland Trail Blazers were looking to win their third straight game.
Damian Lillard Explodes In First Half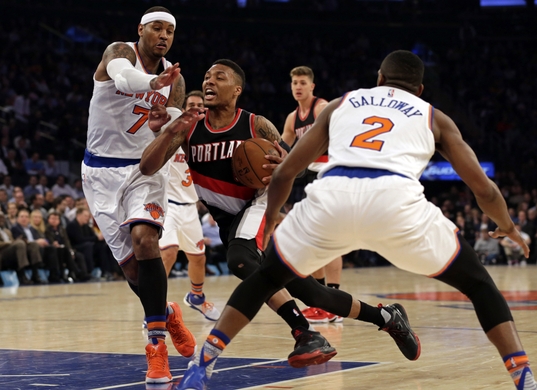 New York started the game converting on 6 of their first 12 shot attempts. The Trail Blazers were off to a slow start making only 4-of-14 from the floor. Portland then picked up their offense largely as a result of Damian Lillard. Lillard went for 10 points in the first period and gave his team a 27-25 lead. The Knickerbockers were able to regain the lead by the 7:13 mark of the second stanza of the game, but Lillard quickly made that extinct by continuing his dominant offensive performance. He dropped 14 points in the frame and extended the Trail Blazers' lead to eight points by halftime. After two quarters, Portland had recorded six blocks and their bench outscored their opponents 24-to-12. Carmelo Anthony was leading the Knicks with 15 points.
C.J. McCollum Drops Buckets In Second Half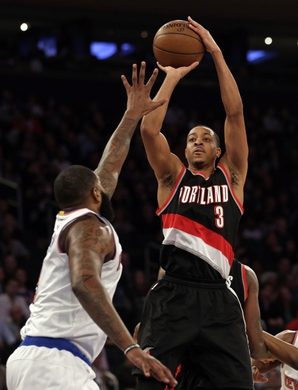 C.J. McCollum, who was held to just four points in the first half, scored seven straight points in the opening minutes of the third frame. New York was not able to lead from this point on. McCollum tallied 13 points in the quarter to lead the Trail Blazers. The Knicks offensive struggles continued since nobody but Carmelo Anthony managed to execute. They then began to fall behind by a wide margin. In the final 12 minutes of the game, New York scored only 12 points while McCollum dropped 8 points.
Top Performers
Lillard went 10-of-10 from the free throw line and 4-of-9 beyond the arc. McCollum made 10 of his 19 field goal attempts. Anthony lead his team with 23 points in 34 minutes of actions. Arron Afflalo, who missed the last game with an injury, added 13 points. Meyers Leonard lead the Trail Blazers' bench with 11 points and 14 boards. Ed Davis was one point and one rebound shy of achieving his own double-double in 23 minutes of action.
Knicks' Postgame Quotes
Head Coach Kurt Rambis said:"We had trouble containing their guards tonight. They just hit some tough shots". Kristaps Porzingis continued to remaim optimistic, and said "We're not playing the way we should be playing, but going through these tough times will make us stronger".
Other Things To Note
- The Trail Blazers have won six straight road games.
- Portland Head Coach Terry Stotts, who won coach of the month for the month of February, is 7-1 at Madison Square Garden.
- In the month of February, Lillard was ranked fourth in scoring with 30 points per game.
- Jimmer Fredette made his second appearance this season as a Knick. He once again received a large ovation from the New York Crowd and recorded four points in three minutes of action. His ten day contract is set to expire on Thursday, with the team yet to determine if they will offer him another ten day contract, sign him for the remainder of the season, or part ways.
- Both teams wore spanish warmup shirts saying "Los Blazers," and "Nueva York," in celebration of the NBA's Latin Nights program. The Knickerbockers will will wear their Nueva York uniforms on March 24th against the Chicago Bulls.
Up Next
- New York's next opponent will be the Boston Celtics, who are currently trailing them in the season series 2-1. The game will be on Friday, March 4th at 7:30 P.M. EST.
- Portland will have a few hours to rest before continuing their road trip against Boston. The game will be on Wednesday, March 2nd at 7:30 P.M. EST.