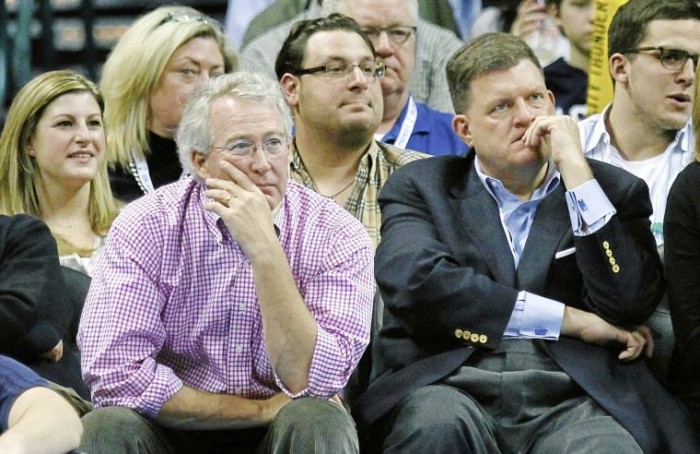 Oklahoma City Thunder part owner Aubrey McClendon was found dead this morning in an apparent one-car accident in northeast Oklahoma City. Emergency crews responded to a scene on Wednesday morning where an SUV crashed into a bridge and caught fire. Oklahoma City police confirmed his death in a tweet, but said it's too early to tell if the collision was intentional. Twenty-four hours earlier, McClendon, the co-founder and former CEO and chairman of Chesapeake Energy, which holds the naming rights to the arena where the Thunder play, was indicted on conspiracy charges by the Department of Justice.
McClendon's Corporate Conspiracy
The indictment alleges McClendon "orchestrated a conspiracy between two large oil and gas companies to not bid against each other for the purchase of certain oil and natural gas leases in northwest Oklahoma." According to the indictment, the conspiracy ran from December 2007 to March 2012, during which the conspirators would decide ahead of time who would win bids, with the winner then allocating an interest in the leases to the other company.
Leasehold interests usually include the right to develop the land and extract oil and natural gas for a period of time, typically three to five years.
This conspiracy is said to be in violation of the Sherman Antitrust Act, which carries a maximum penalty of 10 years in prison and a $1 million fine for the individuals involved.
McClendon eventually stepped down as CEO of Chesapeake Energy in 2013 and then founded American Energy Partners, where he was serving as the chairman and CEO at the time of his death.
McClendon, who is thought to own about 20% of the Thunder, said in a statement, "The charge filed against me today is wrong and unprecedented. Anyone who knows me, my business record and the industry in which I have worked for 35 years, knows that I could not be guilty of violating any antitrust laws." He further went on to say, "I am proud of my track record in this industry, and I will fight to prove my innocence and to clear my name."
McClendon's Role in Moving the Team to Oklahoma City
McClendon was a key figure in the Thunder moving from Seattle to Oklahoma City. The team, then known as the Seattle Supersonics, was bought by majority owner Clay Bennett in 2007 for $350 million from Starbucks founder Howard Schultz. Bennett bought the team under the pretense that he would make a good faith effort in securing a new, more financially viable arena for the Sonics to play in. It was during this time that Bennett, McClendon, and another part owner Tom Ward were involved in a bit of a controversy when email leaked showing their main intent was to move the team to Oklahoma City in the first place. That ultimatum had a one-year time clock on it and when that time expired, Bennett put the wheels in motion to move the team to Oklahoma City.
This is the second death that has rocked the Thunder organization in less than a month. On February 11th, Ingrid Williams, the wife of Thunder assistant coach Monty Williams, was killed in a head-on collision in which the other drive was also killed.