After the Golden State Warriors lost to the Los Angeles Lakers on Sunday afternoon, the Spurs had a chance to gain ground in the Western Conference standing with a victory against the Pacers. Paul George and Monta Ellis had other plans, however, as they led the Pacers to victory, winning 99-91 over the Spurs on Monday night.
Monta Ellis, Paul George Lead The Way
Monta Ellis and Paul George combined for 49 points against one of the league's best teams, and the second seed in the Western Conference coming into today. Monta Ellis scored a game-high 26 points on 8-13 from the field and a perfect 8-8 from the free throw line. All-Star Paul George scored 23 points on a 7 for 20 clip and a was also perfect from the charity stripe, finishing 7 for 7 from the free throw line.
Ian Mahinmi added 11 points and nine boards, while George Hill added five points and 10 boards with five assists. Rookie Myles Turner struggled from the field, finishing just 3-11 with nine points but added 10 boards and two blocked shots. Rodney Stuckey led all bench scorers for the Pacers with 12 points as Jordan Hill contributed eight points and eight boards off the bench.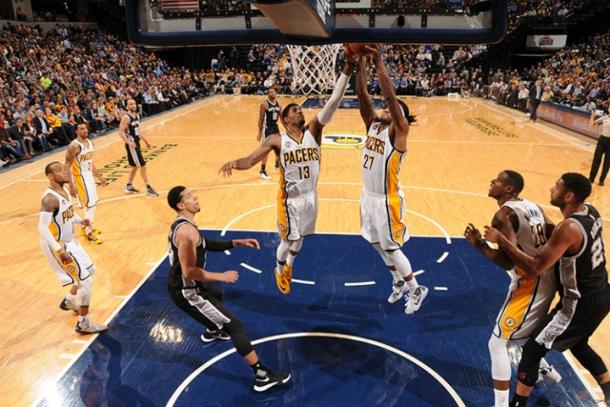 "We were just dialed in, we were very focused tonight, that's why we won," Paul George said. "It just came down to you know, I know I needed a better effort for us to win tonight."
With less than 20 games remaining in the season, the Pacers know the importance of every game and wanted to gain some confidence as they head toward the final stretch of the regular season. The Pacers currently sit as the seventh seed in the Eastern Conference, just one game behind the Charlotte Hornets. However, the Chicago Bulls and Detroit Pistons are eighth and ninth, respectively, and are separated from each other by merely half a game.
Spurs Lose The Game And Lose Tony Parker
The Spurs were riding an eight-game win streak as well as a six-game road win streak, but saw both of those streaks snapped on Monday night. To make matters worse, Tony Parker suffered a bruised left toe in the second half and did not return, finishing the game with just six points and five assists on 2-8 from the field.
Tim Duncan was just 3 of 9 shooting with nine points but a game-high 14 rebounds to go with four assists. Danny Green failed to find his shot as he was just 2-8 as well and 0-5 from beyond the arc to finish the contest with a mere four points. Patty Mills stepped in after Parker left the game and provided a boost with 17 points on 6-13 shooting, but was just 3-10 from three point land.
Kawhi Leonard and LaMarcus Aldridge each scored 23 points on the night to lead all Spurs scorers, as just three Spurs finished in double-digit scoring, the third being Mills. Aldridge was 9-20 from the field and added 12 boards, while Kawhi Leonard was just 9-23 from the field on the night.
The Spurs as a team struggled to find their shot against Indiana. They only scored 13 in the first quarter, which was the lowest scoring quarter they had all season long. They also shot just 4 of 28 from beyond the arc and took a season-high 96 shots.
San Antonio were playing this game without head coach Gregg Popovich, who stayed home because of a "family medical situation," the team announced. Popovich is also expected to miss Tuesday night's game against Minnesota, but should return for Thursday's game when they host the Chicago Bulls.
Ty Lawson Debut
Newly signed Ty Lawson made his Pacer debut after being acquired last week, but played only five minutes. Lawson finished the game with zero points, one board and two dimes. The ex-Rocket left the game after landing awkwardly on his only shot, which was a driving layup. He would not return as the team announced he had a sprained left foot and would be re-evaluated sometime in the next 48 hours.
Next Up
Next up for the Indiana Pacers is a road game against the Dallas Mavericks on Saturday, as they get a much needed break and perhaps a chance to get Ty Lawson more comfortable. The Spurs have a quick flight and head to Minnesota to take on the Timberwolves on Tuesday night before heading home to battle Chicago.