 The Cleveland Cavaliers took a commanding three game lead over the Detroit Pistons Friday evening with a 101-91 win at the Palace of Auburn Hills. The Cavaliers have moved one game closer to sweeping the Pistons, who have now lost 11 straight postseason matchups against their Central Division foe.
Although Detroit beat Cleveland in three of the four regular season meetings and have taken early leads in all three games of this post season matchup so far, they have been unable to figure out the Cavaliers late game pushes that will them to victory.
First half-Detroit puts up a fight
The Cavaliers got off to a slow start once again against an aggressive Detroit team that was excited to bring this matchup to their home court. Poor shooting from role players and lack of contribution from anyone outside of their big three put Cleveland behind early. The Pistons fought their way to a first quarter lead, 27-24 behind balanced scoring led by Marcus Morris with eight points, Reggie Jackson with seven points, and Andre Drummond with an additional six. Cleveland was led by an aggressive Kyrie Irving and Kevin Love, who had eight and seven points respectively but got little to no contribution from anyone else on the court.
Cleveland's bench came on strong in the second quarter in response to a weak start, as Iman Shumpert and Matthew Dellavedova hit quick shots to help balance the scoring load. Morris and Drummond continued to fight hard for Detroit, but were unable to hold their lead as Cleveland took a 54-53 lead going into the half. Cleveland was led by Irving's 13 and Love and LeBron James's 11 points, plus Dellavedova's eight off the bench. Detroit was led by Drummond's 11 and Morris's 10.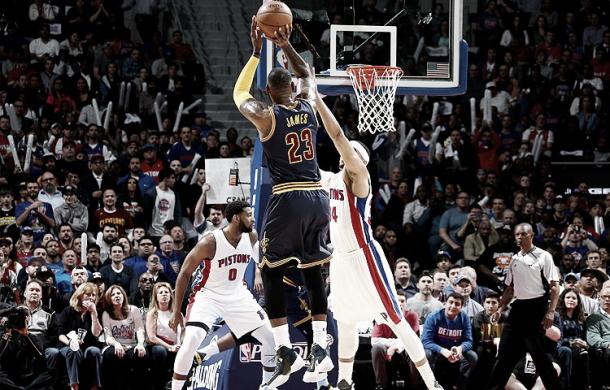 Second Half-Cleveland steps up late
Halftime adjustments and hot shooting helped Cleveland increase their lead to start the second half. Strong shooting from Love and Irving propelled the Cavaliers to a 79-73 lead going into the final quarter.
Although the Cavaliers had built a solid nine-point lead to start the fourth quarter, Detroit was unwilling to go down without a fight. Behind the improved shooting of Kentavioius Caldwell-Pope and Tobias Harris, the Pistons were able to pull within one point halfway through the fourth.
However, the Cavaliers responded quickly, hitting multiple threes to help separate themselves once again. Cleveland took to late game intentional fouling on Drummond in hopes of securing their victory, and it paid off as Drummond was one of six from the line on the night. Huge shots by Irving late propelled the Cavaliers to a three games to zero lead on the Pistons, which no team has never come back from in NBA history.
The Cavaliers were led by Irving's 26 points off 11 for 20 shooting from the field. Love and James each notched double-doubles, as Love scored 20 points and grabbed 12 rebounds while James had 20 points and 13 boards.
A strong scoring effort from Detroit, who had five players score over 10 points, was not enough to give them their first win in this post season. The Pistons were led by Caldwell-Pope's 18 and Drummond's 17.
The Cavaliers will aim to sweep Detroit Sunday at 8:30 on TNT.