It seems like there is an endless list of reasons why the Toronto Raptors could have lost this game.
But when it came down to it, the errant shooting of its starting backcourt nor the horrible free throw shooting were enough to keep Toronto from winning 96-92 over the Miami Heat in overtime to tie the best of seven series at a game apiece.
The Raptors have been profoundly disappointed by its backcourt throughout this postseason. Kyle Lowry's shooting throughout this postseason has been historically bad, and DeMar DeRozan has not been world's better. Lowry was just 7 of 22 from the field and DeRozan shot 9 of 24.
The All-Star tandem combined to score just 38 wildly inefficient points. Lowry isolated the final possession of regulation only to step back about six-feet behind the three-point line to launch an airball. The shot aptly summarized what this postseason has been to him—far better than his miraculous half court shot that pushed OT in Game 1.
DeRozan and Jonas Valanciunas then scored back to back buckets to put Toronto up 90-86 before the Heat committed its 20th turnover with just 2:07 to go in OT. The Heat would cut the lead to three following a Goran Dragic quick two, but with just 11 seconds to go and no timeouts, Miami's fate was sealed.
The Raptors saving grace in this game was its depth and the fact that DeMarre Carroll and Valanciunas was able to bail out their poorly performing teammates.
There really seemed to be more reasons Toronto should have lost this game than reasons that they did, in fact, win it.
Nevertheless, here are the three keys to the Raps win.
1) DeMarre Carroll stepped up to challenge Joe Johnson
Given that Kyle Lowry and DeMar DeRozan were a model of inefficiency, 16 of 46 combined shooting, someone on the Raptors was going to have to step up to provide some efficient scoring. That was DeMarre Carroll, hitting 7 of 13 from the field to finish with 21 points, five rebounds, an assist and four steals.
Carroll also stepped up and put a stop to Joe Johnson who was really starting to get going in the third quarter, when he scored nine of his 17 points.
The Heat dominated the third period, outscoring Toronto 24-15 — but if it were not for Carroll, the Heat very well could have started to run away with the game. This was because so few other Raptors were being aggressive offensively and having much success. Carroll has struggled throughout this postseason, so perhaps this is the beginning of him turning it around.
2) Toronto Forced Gratuitous Miami Heat turnovers
The Miami Heat had 10 turnovers in just the first quarter. Miami finished the game with 21 turnovers, nine of them coming from the starting backcourt of Dwyane Wade and Goran Dragic. The Raptors had 15 steals in the game and had four players with three or more.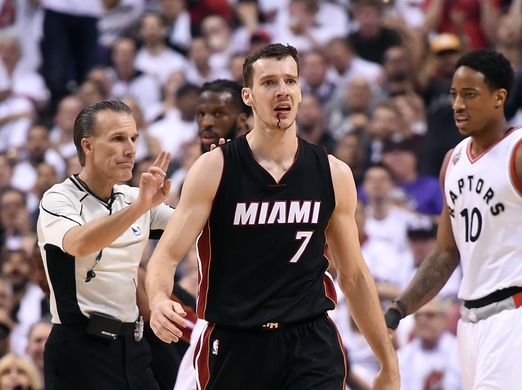 Conversely, Toronto turned it over just nine times in 53 minutes. That was one of the Raptors few saving graces in a game featuring many reasons why Toronto easily could have walked away with a loss. The Raptors nearly did blow it at the line, where they had immense problems. DeRozan hit just 2 of 8 from the line and the Raptors were 14 of 26 as a team (53 percent). More than anything, though, having a 12-possession swing differential in team turnovers is going to help cover a lot of those blunders and shortcomings.
3) Jonas Valanciunas saved the Raptors when they needed it most
Jonas Valanciunas should get the lion's share of the credit for this win. Though he attempted just nine field goals, he finished with 15 points, 12 rebounds, two assists, three steals and a block, all the while going toe-to-toe with Hassan Whiteside. Valanciunas seems to have a speed advantage on the block and made use of it to spin past Whiteside to get to the rim.
Valanciunas does not need a lot of shots to be effective, and as it turns out two of his biggest scores came on the offensive glass. Jonas had six offensive boards in the game and he gave Toronto a two-point edge with about two minutes remaining in regulation after he posted up and then scored on a putback for a quick 4-0 run. He did it at just the right time, too, because the Heat had just climbed ahead by seven points and the Raptors needed that jolt of energy to keep them in the game.
Coming up
The series now shifts to Miami's American Airlines Arena with the teams scheduled to play Game 3 Saturday at 5 PM EST on ESPN.