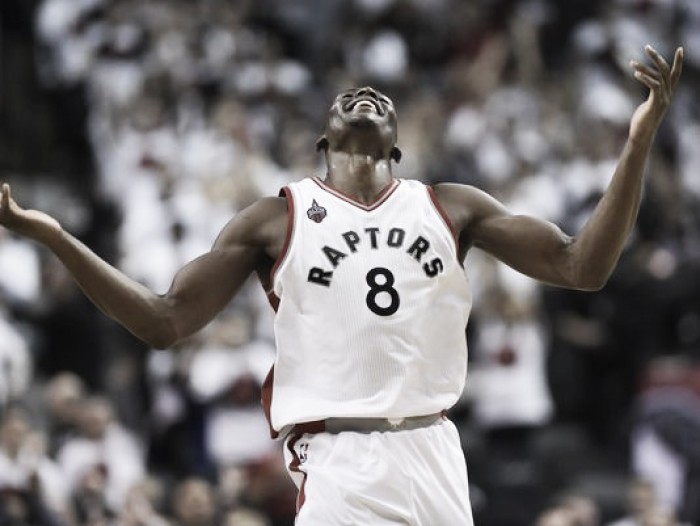 The Toronto Raptors really had not had many games this postseason in which both DeMar DeRozan and Kyle Lowry both performed to their usual capacities. This game was an anomaly from that trend.
DeRozan and Lowry both erupted and combined for 63 points as the Raptors routed the Miami Heat 116-89 on its homecourt to wrap up the series.
The Raptors really put the clamps on Miami defensively, especially in the fourth quarter. Toronto used its homecourt advantage and superior size to give Miami a world of problems on the interior. And it all came from Toronto's backup center stepping up to play nearly as large as the injured Jonas Valanciunas.
Let us examine the three keys to Toronto's dominance in this decisive Game 7:
1) Bismack Biyombo was a giant among men
The Toronto Raptors were without Jonas Valanciunas for the final four games of this series, but Bismack Biyombo more than stepped up when called upon. The Heat were also without its starting center Hassan Whiteside, but the Raptors had been unable to make the Heat pay for its small ball lineups. Until today.
Biyombo finished the game 6 of 8 from the field for 17 points, 16 rebounds and two blocks, and as big as those numbers may seem, his play was bigger still. Biyombo forced the Heat into tough looks and hustled all over the court, seeming bigger than ever given Miami's small ball lineups. The 6'9" 23-year-old from the Congo had the biggest game of his life and the Raptors can be thankful to have signed him to a two-year deal last offseason. He now has become unarguably the biggest bargain on Toronto's roster.
Biyomobo had 13 rebounds in the Game 6 loss, too, but what made his Game 7 performance so different was that the Raptors got him involved in the offense. He was so active defensively and on the glass it would have been cruel not to get him some buckets, and with the Heat really having no bigs to counter him, he seemed like a seven-footer.
Not often does being a healthy 6'9" make an NBA player look like a giant. But he was one, today.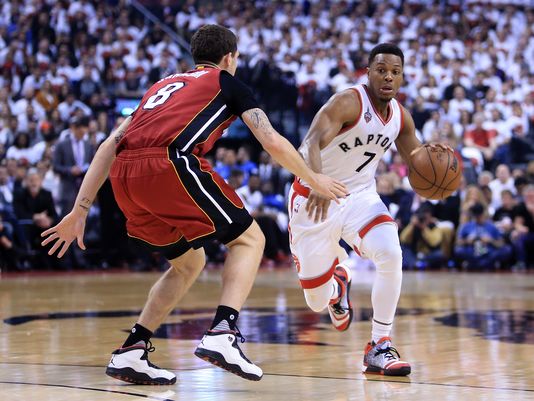 2) Kyle Lowry and DeMar DeRozan showed up to play
The Raptors have been waiting for DeMar DeRozan and Kyle Lowry to both be on the same page, and performing well. It had not happened except in stretches, but the Raptors reminded the world why it was the East's second best regular season team.
Lowry had 36 points in Game 6, but he was also responsible for Goran Dragic going bonkers.
This 35-point performance was perhaps even more impressive, and he did a lot of the damage with a much-bigger Justise Winslow covering him. Lowry shot 11 of 20 and 5 of 7 from three-point range while also dishing out nine assists and snagging seven boards.
DeRozan was 12 of 29 from the field for 28 points, eight rebounds, and an assist. This is how good the All-Star tandem is when they are at their best. The Raptors will need that to continue next round, in full force, at that. Many had already begun to write the Raps off as an underachieving band of regular season bandits, but Lowry and DeRozan showed up to win this closely-contested series.
3) Toronto finally played to its true size
We have already spoken on the importance of Bismack Biyombo, but the Congo-born big man was not working alone. Patrick Patterson and DeMarre Carroll both played their role in helping Toronto utterly dominate the boards. Toronto held a +20 rebound advantage (!) in this game and outscored Miami in the paint 42-40.
DeMarre Carroll took advantage of Miami's choice to put Goran Dragic on him, drawing a couple fouls on the Heat's point guard in using his five-inch height advantage to work on the blocks.
Carroll finished with 14 points and five rebounds.
Patrick Patterson was vital, as well. The former Kentucky Wildcat hit just 2 of 8 from the field but he had 11 rebounds, including seven on the offensive end. The Raptors had let Miami's athleticism thwart them in Game 6, but in the conclusive game of this series, the traditionally balanced Raptors team took down a team full of swingmen—basically.
Up next
The Raptors will regroup and collect itself before traveling to face the Cleveland Cavaliers in Game 1 of the Eastern Conference Finals. The game will air at 7:30 Eastern Daylight Time Tuesday on ESPN.