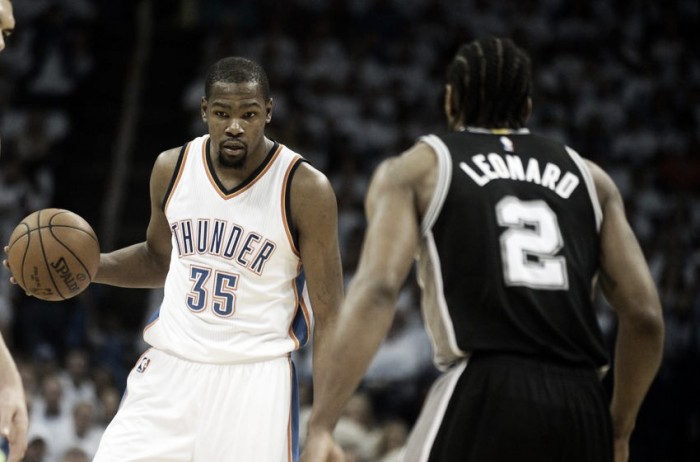 It's not every season that we have a player who has the year that Kevin Durant had and finishes fifth in MVP voting. With that being said, we also are not used to a player (or as some believe, an alien) hitting 402 three pointers at a 45 percent clip like Stephen Curry did. Kawhi Leonard emerged as the best two-way player in today's game. Even Durant's own teammate, Russell Westbrook, had a season that overshadowed his. How could we not talk about that walking triple-double? And we all know LeBron James was in talks for the Most Valuable Player award, as he always is.
Now, nobody can argue against Steph being the first unanimous MVP winner ever. However, you could have voted any of the other four players mentioned above as your second place guy. Kevin was voted into the fifth place of the standings. But let's take a look at the season he had.
Regular Season
All great players love holding records, it shows their true dominance. Well, KD is currently riding an active streak of 63 consecutive games with 20 or more points. This record dates all the way back to November 10th, 2015. It also doesn't even include the 18 postseason games he played in this season, where he scored 20 or more points as well. Averaging 28.2 points per game had him in reach of the scoring title, but nobody could stop Chef Curry. Along with the forward's unstoppable scoring, he averaged five assists per game and 8.2 rebounds per game. Don't forget about him just missing the exclusive 50-40-90 club (50 percent from the field, 40 percent from the three, 90 percent from the free throw).
On a more advanced note, Durant's 28.25 PER (Player Efficiency Rating) was second to none other than the MVP. Kevin finished second behind Steph in mostly every stat. His 63.4 true shooting percentage and 19.4 PIE (Player Impact Estimate) was second best as well. Win shares are a huge deal in this league and Kevin is no stranger to that stat. Even finishing second, Durant's win shares this season was at 14.5. Hidden under all of this, the lengthy forward had arguably his best defensive season ever. LeBron has been heralded as one of the most capable defenders in this league. Kevin's 6.3 percent differential finished right behind LeBron among players that played 70 games or more. It is fair to say KD was out to prove his defensive ability this season.
Postseason Success
Durant and the Thunder found success this postseason. KD had everything to do with it. Although percentages took a hit, his scoring was elevated to 28.4 points per game. But we all know Kevin is going to score. What really impressed this postseason was his defensive ability. Showing us just how capable a defender he is, Durant raised his differential percentage to 7.5 percent in the playoffs. There isn't much you can do with a guy that could lock you up on one end and score willingly on the other.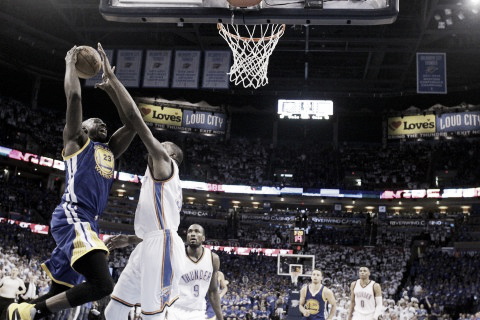 Oklahoma City finished the second best team in the NBA, the San Antonio Spurs, in six games. Durant helped by scoring on the back-to-back Defensive Player of the Year, Kawhi Leonard. He also contained the sudden offensive monster in Kawhi. However, the biggest feat in the postseason is what Kevin did in the series against the Golden State Warriors. Many feel that Draymond Green is what makes that team go. Green is a triple-double waiting to happen as well. KD defended and frustrated Draymond to the point where Green had no affect on the series. Many were saying that Steve Kerr needed to bench the guy. This played a huge role in the Thunder having the Warriors down 3-1 in the series.
Making A Case
After taking all of these stats and facts in, how could this superstar finish as anything but MVP of the league? Well, mentioned in the beginning, this was an absurd year for guys in the NBA. But there is no reason for Kevin Durant's amazing season to go as under-the-radar as it did. It shows just how talented this league is these days. Appreciate the greatness, people.